The CW's Arrow producer/writer Marc Guggenheim has sent out a tease on Twitter that is either a wink-wink Easter Egg for comic fans or the groundwork for the appearance of a big villain either in the upcoming season or beyond.
Guggenheim tweeted a van graphic diagram that is part of the Arrow: Season 2 production. The graphic is for "Metamorpho Chemical," a name with big implications in the broader DC Universe.
Metamorpho Chemical refers to the superhero Metamorpho, a founding member of the Outsiders and a Justice League member as well. His real name is Rex Mason and he also goes by the name of The Elephant Man or The Element Man. He gains his power to change into any element of the human body after being exposed to the Orb of Ra, an ancient Epyptian artifact.
Guggenheim and his fellow Arrow producers have said on multiple occasions that no super powers will appear in the Arrow television series. At the same time, we know that The Flash will be introduced this upcoming season and something not realistically possible will have to make him run fast. It's not completely out of the realm of possibility that Metamorpho could appear.
At the same time, Metamorpho Chemical could simply be a DC Universe Easter Egg and be left at that. Or, it could lay the foundation for a future Outsiders project. Or, we could meet the small screen version of Rex Mason before his incident with the Orb. Whatever the reason, be on the lookout for the Metamorpho Chemical van in Season 2 of Arrow.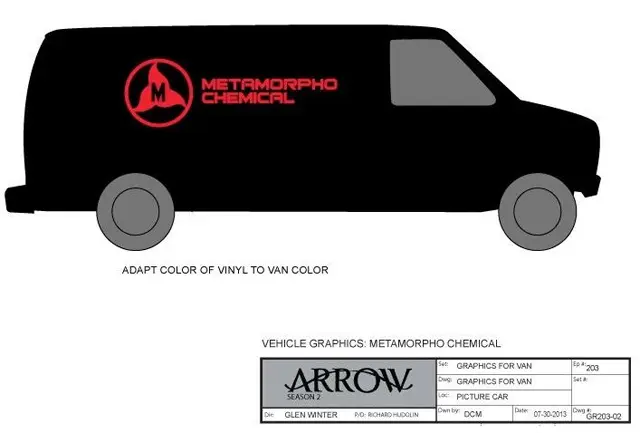 Source: Twitter