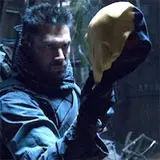 Manu Bennett has been promoted to series regular cast member for Season 2 of The CW's Arrow according to THR.
Bennett plays the part of Slade Wilson whom is currently an ally of Oliver McQueen during the first season's flashback sequences on the former prison island. His role has been gradually expanding since being introduced.
In the Green Arrow comics, Wilson becomes the villainous enemy of Arrow, Deathstroke. The signature black and white Deathstroke mask has been used multiple times in the series by other characters so its unclear if this version of Slade will follow the same path.
It has been teased that Slade does in fact have a Deathstroke mask in his stash of belongings inside a crashed plane. Slade has also been shown to have a bit of a dark nasty streak, so the foundation is in place for him to eventually turn on Oliver or vice-versa before Oliver eventually leaves the island as Arrow.
Bennett is the third actor from Season 1 to be promoted to a series regular for Season 2. The other two are Emily Bett Rickards (Felicity) and Colton Haynes (Roy Harper). Though Harper has appeared in only one episode thus far, he will appear again in tonight's new episode and slowly work his way into Oliver's life from here on out.
Catch the latest episode of Arrow titled 'The Huntress Returns' tonight on The CW.
Source: THR