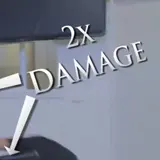 The CW put a smile on the face of Arrow fans when a mysterious blonde vigilante showed up in the Season 2 premiere's final moments to lay a smack down on some thugs about to cut holes in Roy Harper, then disappeared into the night.
The crew was obviously excited to shoot this sequence and all involved, from behind to in front of the camera, were wide awake at 4am when it was filmed. We get to take a sneak peek inside the rehearsals for this sequence thanks to a brief new behind-the-scenes featurette that will likely end up on the future Arrow: Season 2 Blu-ray and DVD release. If anything it provides the best look yet at Black Canary's weapon that splits into two extendable batons for double the damage.
Check out Black Canary's introduction below, and tune into the next all-new episode of Arrow Wednesday at 9/8c on The CW.