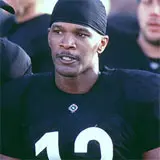 Warner Home Video has announced the Oliver Stone football drama Any Given Sunday starring the impressive cast of Al Pacino, Cameron Diaz, Dennis Quaid, Jamie Foxx, LL Cool J, James Woods, Ann-Margaret, Dick Butkus, Jim Brown, Lawrence Taylor and Charlton Heston will kick off its HD debut on Blu-ray Disc January 27, timed just before the Super Bowl.
Warner will present the director's cut running 156 in widescreen 1.85:1 1080p video and either 5.1 Dolby Digital or Dolby TrueHD audio.
The impressive list of supplements from the previously released DVD are all included on the Blu-ray version as outlined below.
Commentary by director Oliver Stone
Commentary by Jamie Foxx
Full Contact: The Making Of Any Given Sunday HBO's First Look documentary
Jamie Foxx audition tape and screen tests

Football Home Vide
Screen Test #1 The Lunch
Screen Test #2 Willie and Vanessa at the Cordoza Hotel

14 deleted/ extended scenes with optional commentary by director Oliver Stone

Madman's pre-game ritual
Game 1 – Sanderson tunnel speech/Madman and angry fan
Game 1 – Sharks tackle/Beastman's broken finger
Game 1 – Press conference
Viscaya party – Dr. Mandrake sets the rules for Dr. Powers
Tony and son breakfast
Game 3 – Butkus vs. referee
Post Game 3 – Miami win over Crusaders
Sharks locker room – Willie and Christian
Sharks party – Hot tub scene/Willie meets Ray Fields
J- Man at home/watching Willie
Pre-game 5 — J-Man makes up with Willie/Monte urges on the team
Game 5 – Sanderson and Dr. Powers14
Post Game 5 Victory

Gag Reel
Football outtakes montage
Miscellaneous landscapes and outtakes montage
Music-Only Audio Track

"Rock and Roll Part 2" by Gary Glitter
"Cruisin" by Smokey Robinson
"Stompbox" by Overseer
"My Niggas" by DMX
"Take California" by Propellerhead
"Revolution" by Kirk Franklin
"Como Ves" by Ozomatli
"Willie Beamen" by Jamie Foxx
"Garciosa" by Moby
"Twilight Zone" by 2 Unlimited
"Use Me" by Bill Withers
"Soul Sunday" by Goodie Mob featuring Outkast
"Twisted Hair" by Robbie Robertson
"Introduction from Run Lola Run" by Tom Tykwer, Johnny Klimek and Reinhold Heil
"Any Given Sunday" by Jamie Foxx

Instant Replay (direct access to exciting game moments)

Hit on "Cap"
Beam throws first TD
Beam runs with the Football
Beamen runs for a TD
The Monsoon Bowl
"Cap" runs for a TD
Dallas game scoring drives
4th and 1 – Shark goes down
Comanche
4 seconds left

The Art of Selling – theatrical poster campaign and design exploration slide show
Stills Gallery production stills slide show with music
Music Videos

"Shut 'Em Down" by LL Cool J
"My Name is Willie" by Jamie Foxx
"Any Given Sunday" by Jamie Foxx

Theatrical trailer
Any Given Sunday: Director's Cut on Blu-ray will carry an SRP of $28.99. Check back for high-res cover art in the days ahead.
Discuss Any Given Sunday arriving on Blu-ray in a dedicated HDR Forums thread.