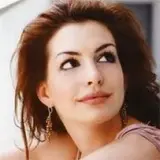 Anne Hathaway has scored one of two female leads in Christopher Nolan's The Dark Knight Rises (aka Batman 3) as Selina Kyle, better known as the woman will become Catwoman, in an announcement by Warner Bros. today.
In addition, Warner re-confirmed Tom Hardy is on board and named his character as the villain Bane. "I am delighted to be working with Tom again and excited to watch him bring to life our new interpretation of one of Batman's most formidable enemies," Nolan said of Hardy's casting in the announcement.
Hathaway will be the third actress to portray Catwoman on the big screen. Michelle Pfeiffer played the role in Tim Burton's Batman Returns, while Halle Berry was the star of a Catwoman spin-off film.
Bane appeared in Joel Schumacher's utterly forgettable Batman & Robin, the final Batman theatrical film before the series went on hiatus and was relaunched with Nolan's Batman Begins.
Hathaway had been competing with Jessica Biel, Keira Knightley, Kate Mara and Charlotte Riley for one of the two female roles. The other role, speculated to be Talia Al Ghul, is still presumably still up for grabs.
The Dark Knight Rises, written by Christopher and his brother Jonathan from a idea that Christopher and David S. Goyer formulated, is expected to begin production this spring with a July 20, 2012 release.
Source: L.A. Times