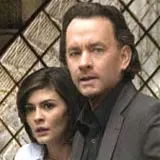 The Angels & Demons book made roughly half of what The Da Vinci Code book made during its first week of release which proved a relatively viable formula to calculate box office results for the theatrical adaptations.
Sony's Angels & Demons raked in an impressive $48 million at the box office this past weekend and beat studio estimates to come in past of the halfway point of The Da Vinci Code's $77 million opening weekend tally. Toss in international ticket sales and Angels & Demons is sitting pretty at $104.3 million from 96 countries.
Star Trek is still flying at warp speed with $43 million during its second weekend. With only a 44% drop, Trek is already at $147.6 million and has a legitimate shot at crossing the $200 million barrier. I did my part to support the new Trek with a second viewing earlier today.
X-Men Origins: Wolverine suffered another substantial drop to muster $14.8 million during its third week of release. With a cum of $151 million, Wolverine should yield to Star Trek in the next couple days, if not Monday.
The complete weekend box office take played out as follows:
1. Angels & Demons: $48m
2. Star Trek: $43m
3. Wolverine: $14.8m
4. Ghosts of Girlfriends Past: $6.86m
5. Obsessed: $4.55m
6. 17 Again: $3.4m
7. Monsters vs Aliens: $3m
8. The Soloist: $2.4m
9. Next Day Air: $2.3m
10. Earth: $1.68m
Next weekend will feature the battle of the demographics as adult males will eye Terminator Salvation with its Thursday head start, families will flock to Night at the Museum: Battle of the Smithsonian, and women will kick up their heels for Dance Flick. Museum should get the nod when all is said and done with a 500 theater advantage over Terminator.