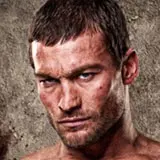 Andy Whitfield, the chiseled Australian actor who helped propel Starz' Spartacus: Blood and Sand to a hit for the cable channel as the title character, died at age 39 on Sunday from non-Hodgkins lymphoma.
Andy was first diagnosed with the cancer 18 months ago, during the time when Spartacus: Blood and Sand was filming and aired. The disease eventually took its roll on the rising television star and in September, 2010, he was forced to exit and concentrate on battling the illness.
Starz worked closely with Andy to determine whether he would eventually return, be replaced as Spartacus, or if the show would be permanently halted. Andy blessed another actor assuming the role and in late January, 2011, Liam McIntyre was chosen after an exhaustive search. McIntyre will appear in Spartacus: Vengeance early next year.
Andy kept his disease out of the public eye as his death came as a shock to everyone. No one knew his condition had worsened over the past several months to the point of threatening his life.
In a network comment from Starz that was published on the show's official Spartacus website last night, they wrote:
"We are deeply saddened by the loss of our dear friend and colleague, Andy Whitfield. We were fortunate to have worked with Andy in Spartacus and came to know that the man who played a champion on-screen was also a champion in his own life. Andy was an inspiration to all of us as he faced this very personal battle with courage, strength and grace. Our thoughts and prayers are with his family during this difficult time. He will live on in the hearts of his family, friends and fans."
Andy Whitfield will be missed.