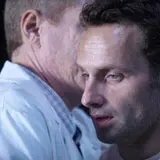 One of the biggest lingering mysteries of The Walking Dead isn't where the virus started or if there is a cure. It's the final words from a man who has chosen to take his own life rather than carry on, whispered into the ear of Andrew Lincoln's Rick Grimes in the Season 1 finale.
Speculation of what CDC scientist Dr. Jenner said to Rick has run the gamut from telling him a secret about the virus to revealing Lori's pregnancy and who the father is. Now everyone knows Lori is pregnant so that's a moot point, but the father remains a mystery and that information could prove pivotal if revealed given Shane's continual mental deterioration.
In an interview earlier this week, Lincoln once again confirms he knows what the whisper is, but refuses to tell anyone – including his own wife. "Not even my wife knows what he whispered to me," Lincoln confessed. "He [Jenner] chooses not to tell people so why would I tell?"
What Lincoln would reveal is the whisper is "pivotal" for Rick and that it isn't good news. I want to think Dr. Jenner told him Lori is carrying Shane's baby, especially since Lincoln zeroed in on his own character. But Rick's reaction to "discovering" she was pregnant several episodes ago would have to have been one big act. Why would he need to have done that?
Before the interview concluded, Lincoln dropped a hint about The Walking Dead: Season 2 finale. He says something will happen at Hershel's farm that will make the safe haven "not as secure as they may think." Cue the lead in to Season 3.
For more on The Walking Dead, read our review of the last episode 'Nebraska,' check out a 'Triggerfinger' clip from the next episode, and don't miss the fantastic The Walking Dead: Season 2 Blu-ray special limited edition box design.
Source: Washington Post