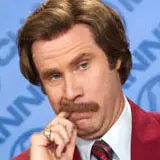 Anchorman is on the verge of making its Blu-ray Disc debut but there's a catch. If you want to partake in the antics of Ron Burgundy in high-def, you'll need to grab the set from Best Buy as that's the only retailer that will be offering it.
To coincide with the August 31 release that includes new bonus features, a book and collectible trading cards, we've got a clip from one those supplements with Will Ferrell and Christina Applegate to share with you below.
Shop for Anchorman: The "Rich Mahogany" Edition on Blu-ray at BestBuy.com.
> >