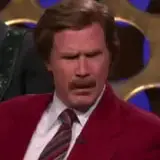 Endlessly quotable Anchorman is finally getting the sequel it deserves, as announced earlier today by Will Ferrell in full Ron Burgundy gaudy attire and persona on TNT's Conan.
The Anchorman 2 reveal began with a Tweet from host Conan O'Brien who stated Ron Burgundy, the news presenter played by Will Ferrell in Anchorman, would be stopping by his show to make a big announcement. Those who saw the tweet immediately assumed an Anchorman sequel was imminent. Those in Conan's studio audience, however, probably had no clue why Ron Burgundy strutted out onto Conan's stage while puffing on a flute.
Here's the Ron Burgundy appearance on Conan where the big announcement was made.
Last year, Anchorman director Adam McKay tried to get a sequel off the ground at Paramount that he and Ferrell co-wrote, and even promised substantial pay cuts for himself and all the returning cast and crew to help get a deal done. Paramount turned the proposal down, however, but apparently the negotiations weren't permanently silenced even though the proposed film dropped out of the media spotlight in May.
With Ferrell confirming the deal, expect McKay to direct his lead funny man along with now infinitely more recognizable and popular Steve Carell and Paul Rudd. Other cast members including Chris Parnell, Christina Applegate and Fred Willard from the 2004 original could also be making a return to "classy" San Diego.
Production on Anchorman 2 under Gary Sanchez Productions and Judd Apatow Productions is expected to get underway later this year for a 2013 release.