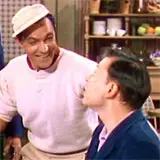 Warner Home Video has announced a new special edition of An American in Paris and a 50th anniversary edition of Gigi are coming to DVD later this year. Better yet, they've confirmed both 1950s Best Picture winners are being prepped for an early 2009 bow on Blu-ray Disc.
Confirming a Blu-ray release is as far as Warner went when referencing the high definition versions. We can still glean a lot of what to expect by looking over the DVD announcement and specs.
An American in Paris, which was originally photographed in Technicolor, is the latest recipient of Warner Bros.' proprietary Ultra-Resolution process. This process takes the original Technicolor negatives and meticulously combines them to yield a stunning picture with sharpness and depth of field never seen before.
Gigi, on the other hand, was filmed after the original Technicolor system was retired. It was instead filmed in the industry-standardized Eastmancolor process.
To restore Gigi, Warner has utilized photo-chemicals from its original camera negative and safety separations to produce a sharper and more colorful image. In addition, an all-new 5.1 mix has been created from the multi-track source elements.
Both films on DVD are being packed with supplemental features which are likely to be included on the future Blu-ray versions.
An American in Paris
Disc 1
1938 MGM short: Parison Parade
1951 MGM cartoon: Symphony in Slang
Theatrical trailer
Disc 2
2002 American Masters Documentary: Gene Kelly: Anatomy of a Dancer
'S Wonderful: The Making of An American in Paris, an all new documentary, produced especially for this release. A dynamic history of the making of the film, which reveals how George and Ira Gershwin's classic songs, the dazzling art of the French impressionists and the ultimate teamwork of MGM's legendary Freed Unit came together to create a musical masterpiece. Featuring ten new interviews, including co-stars Leslie Caron and Nina Foch
Outtakes: Georges Guetary performing Love Walked In and Gene Kelly performing I Got a Crush on You (audio only)
Gene Kelly and Leslie Caron promotional radio interview with Dick Simmons
Love Walked In Outtake
Audio Outtakes
Alternate Main Title

But Not for Me Guetary
But Not for Me Levant Piano Solo
Gershwin Prelude #3
I've Got a Crush on You
Nice Work if You Can Get It
'S Wonderful

Radio Interviews

Johnny Green
Gene Kelly
Gene Kelly and Leslie Caron
Gigi
Disc 1
The Million Dollar Nickel [1952 MGM short]
The Vanishing Duck [1958 MGM cartoon]
Theatrical Trailer
Disc 2
Thank Heaven! The Making of Gigi – The story of how 1958's Best Picture winner (the last of the classic MGM musicals) survived a turbulent production that included censorship battles over its daring sexual content and creative struggles between a studio in turmoil and a demanding, visionary director. Featuring an all-new interview with star Leslie Caron, and a rare interview with Oscar-winning director Minnelli
Full announcements for both titles on Blu-ray will be made later this year.