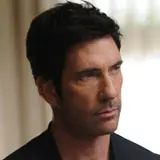 American Horror Story debuts tonight on FX and brings with it the hope of success producers and creators Ryan Murphy and Brad Falchuk struck in their previous series, Nip/Tuck and Glee.
The name American Horror Story is as plain and straightforward as its premise. A Boston family looking for a fresh start moves into a creepy old mansion in Los Angeles only to discover the home was, and still is, haunted.
The family is played by Dylan McDermott (Ben Harmon), Taissa Farmiga (Violet Harmon) and Connie Britton (Vivien Harmon). Also starring in the series are Evan Peters as Tate Langdon, Denis O'Hare as Larry, and Jessica Lange as Constance.
Murphy and Falchuk pushed the envelope in their previous two shows, and American Horror Story looks to be no different. Early critical reactions call it "creepy," "haunting," "scary," and pretty much any other descriptive term you would expect a horror television series to be labeled by.
The one knock thus far against American Horror Story has been that it's overly stylistic, over-the-top and bizarre for its own good. Whether audiences can latch onto the idea for weeks on end post-pilot will determine its fate.
American Horror Story debuts tonight at 10pm EST/PST exclusively on FX.
Checkout a five-minute clip from the pilot below oozing with creepiness, as well as a handful of pilot images followed by some promotional shots of the recurring cast.