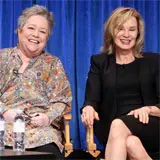 When American Horror Story returns to FX this fall with Jessica Lange and a selection of other returning cast members, it will be known from this day forth as American Horror Story: Coven.
As revealed at Paley Fest late last night, Season 3 of American Horror Story known as Coven will be filmed in and around New Orleans, Louisiana and figures to explores the world of witches and witchcraft. HBO's True Blood took a stab at witches recently with mixed results. I suspect Ryan Murphy and his team will do the creepy supernatural folks right and make them scary as hell.
Jessica Lange's character was described in the panel as a "glamor cat," and your guess is as good as mine and Lange's as to what exactly that means. She will be joined by fellow returning actors Lily Rabe, Sarah Paulson, Evan Peters, Frances Conroy, and Season 1 cast member Taissa Farmiga, as well as newcomer Kathy Bates in what's expected to be an antagonistic role. She should be quite the witchy woman.
Looking forward beyond Coven, Murphy hinted that he's thinking about exploring the world of vampires in a future season of American Horror Story. Targeting witches seems like a first step in that direction, and how Coven plays out would provide an idea of what a vampire-themed season might be like.
American Horror Story: Coven is still a ways off from its October premiere.
Source: TV Overmind