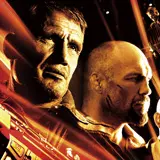 Dolph Lundgren and Randy Couture reunite in the action thriller Ambushed (formerly known as Rush) after sharing the screen in The Expendables and The Expendables 2. Joined by Vinnie Jones as a criminal mastermind, the trio get caught up in a story of smuggling, murder, deceit and crime.
Anchor Bay is releasing Ambushed on Blu-ray and DVD combo pack on November 12. The film runs a brisk 97 minutes and will be presented in 2.35:1 1080p video and 5.1 Dolby TrueHD audio. There are no bonus features included on the disc.
Here's the official Ambushed synopsis:
Ambushed charts the dark, seductive underbelly of Los Angeles, told from the point of view of two of its seedier denizens, mid-level drug pushers Eddie (Gianni Capaldi) and Frank (Daniel Bonjour). They want a chance to hit the big time. Unfortunately, they decide to achieve their goal by ripping off their middleman in a murderous bid for greatness, setting off a dangerous chain of events involving a ruthless crime boss, a dirty cop and the Federal agent chasing them all.

Agent Maxwell (Dolph Lundgren, One in the Chamber, The Package) is about to close in on an international cocaine smuggling operation run by criminal mastermind Vincent Camastra (Jones). When Agent Beverly Royce (Carly Pope, 24, Californication, Concrete Blondes) goes undercover with the drug dealers, she finds herself in deeper than she can handle. Up against ruthless killers as well as dirty cop Jack Reiley (Randy Couture, UFC Hall of Fame, Hijacked, The Unit), Frank and Eddie will soon find that dreams built on corruption sometimes exact a heavy toll…
Click here to pre-order Ambushed on Blu-ray for a discounted price at Amazon.com.