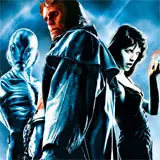 Online retailer Amazon.com is offering a new Blu-ray Disc promotion to spur sales of previously released titles.
For a limited time, or in Amazon's exact words, "Hurry–this sale won't last long," you can purchase two Blu-ray titles from a list of 39 for $30. It doesn't take a mathematician to deduce that works out to $15 per title.
Headlining the list are several Blu-ray favorites including the 5-disc collector's edition of Blade Runner, 300, Hellboy, Pan's Labyrinth, Stargate extended cut and Troy director's cut.
Most titles in the offer are priced in the $20 range so you'd be saving 25%. A few, like Terminator 2, are already priced under $15 so we'd recommend skipping those.
You'll need to follow the link below to take advantage of this offer.
Shop the 2 for $30 Blu-ray Sale at Amazon.com.