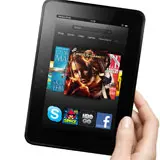 Update: It is now the day after July 4th and Amazon is still selling the Kindle Fire HD 7″ tablet for $30 off its usual price. This is either the last day for this limited time offer, or it will run through Saturday or Sunday.
In the market for a shiny new Kindle Fire HD 7″ tablet but have been holding out for a lower price or a cheap buying opportunity? If so then Amazon.com is currently running a sale with a deal worth pouncing on.
With the July 4th holiday just around the corner, Amazon is getting an early start on its featured deals by offering the Kindle Fire HD 7″ 16GB tablet for $169 shipped. That is a $30 savings against the typical $199 price it sells for, or roughly 15% once you break down the math.
Likewise, the Kindle Fire HD 7″ 32GB tablet with double the storage capacity is selling for $199 or $30 less than the $229 it typically does. If your budget is up around $200 then yon can basically get the extra 16GB of storage for free.
Amazon's Kindle Fire HD 7″ sale is a limited time offer but there's no indication of when it will end. The safe assumption is that Amazon will carry it through July 4th on Thursday, but it could end as early as Friday. I wouldn't expect Amazon to run this Kindle HD sale any longer than this upcoming Sunday.
It isn't often that Amazon puts their Kindle products on sale with the last time being the week before Father's Day. I don't believe any of them were on sale in the months prior dating all the way back to Black Friday of 2012. It might be Black Friday 2013 before another sale opportunity to take advantage of surfaces.
Click here to purchase a Kindle Fire HD 7″ tablet for $30 off with free shipping at Amazon, while the sale price lasts.
The Amazon Kindle Fire HD 7″ sale also includes 400 Amazon coins which equates to $5 worth of free currency to download apps.