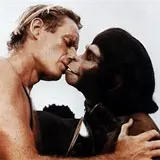 Twentieth Century Fox Home Entertainment has a number of high profile Blu-ray titles that have been noticeably absent from Amazon.com for pre-orders for whatever reason.
Today they've all shown up at once and the list is impressive. Available to secure on Blu-ray right now are X-Files: Fight the Future and X-Files: I Want to Believe, as well as a two-pack with both films.
Also available is the massive Planet of the Apes: 40th Anniversary Collection and each of the five Apes titles individually.
We've included direct pre-order links to Amazon for each of these new Fox titles on Blu-ray below. In addition, you can view our complete list of Amazon.com Blu-ray pre-orders right here.