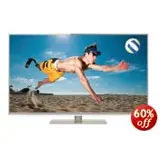 Online retailer Amazon.com has lowered the price of three Panasonic LED 3D televisions as one of their Gold Box Deal of the Day offerings timed with Cyber Monday 2012.
Unfortunately one of the televisions in the deal has already sold out and is only available from third-party sellers, the smaller 42″ set. The other two larger sets are still in stock, though, and will remain at their 60 percent off list price through the remainder of the today.
The first set on sale is the Panasonic VIERA TC-L55DT50 55-Inch 1080p 240Hz 3D Full HD IPS LED-LCD TV. This 55″ set carries a list price of $2.499 but is on sale for $999. Anything under $1,000 for a 55″ 3D television is a fantastic deal if the 3D glasses are included. These are not, so I will call this is a good deal, but not an amazing one.
The second set is the Panasonic VIERA TC-L47DT50 47-Inch 1080p 240Hz 3D Full HD IPS LED-LCD TV. This set is virtually identical to the first save for a smaller size: 47″ diagonally versus 55″. As you can imagine it is priced even lower at $799.
Both of these Panasonic 3D HDTV Cyber Monday deals include free shipping which is a huge bonus considering the size of the televisions.The deals will run through the end of today or while supplies last.
Click here to shop Amazon's Cyber Monday HDTV Gold Box deals.
You can alternately shop all of Amazon's Cyber Monday television deals here.