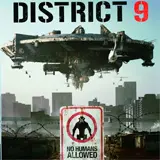 Two of the most aurally impressive Blu-ray titles you'll come across, which also happen to be a couple of my favorite keepers, are currently on sale at Amazon.com.
Christopher Nolan's Inception is due in stores this Tuesday, December 7, and has managed to hold onto the top Blu-ray bestsellers spot at Amazon thanks to a very inviting price. Though Warner Bros. has set the SRP at a relatively steep $34.95, Amazon is selling Inception on Blu-ray for $17.99 or almost half off the SRP. We've already reviewed Inception on Blu-ray and were blown away by the 5.1 DTS-HD Master Audio track that will push your audio setup to its limits.
Buy Inception on Blu-ray for $17.99 at Amazon.com.
Also on sale at Amazon is Neill Blomkamp's politically charged sci-fi Best Picture nominee, District 9. This visual and sonic wonder starring Sharlto Copley lists for $24.95 but is on sale for a very cheap $8.99. You won't find a much better bang for your Blu-ray buck anywhere.
Buy District 9 on Blu-ray for $8.99 at Amazon.com.