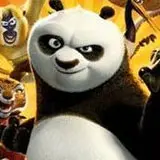 Leave it to online retailer Amazon.com to kick off the Black Friday shopping festivities early.
While Turkey's are being prepped and slid into ovens across the nation, Amazon has rolled out their first batch of Blu-ray Black Friday software deals.
Leading the pack is the new Dreamworks release Kung Fu Panda (read our review). Amazon has priced this great looking and sounding disc at $16.99, or 58% off list price while supplies last.
Also appearing on Amazon's lengthy list of Black Friday Blu-ray Disc titles is Band of Brothers for $54.95, Sleeping Beauty for $19.99 and A Clockwork Orange for a mere $10.99.
You can view and shop the complete list of Amazon early Black Friday Blu-ray Disc titles by clicking here.
Amazon is clearly out to get the jump on Target, Best Buy and Walmart, all of whom are planning their own Black Friday Blu-ray sales. For example, Best Buy will be selling Transformers on Blu-ray Disc for only $9.99 as a doorbuster deal. You'll probably have to stand in line for a shot at one of those.
Amazon will have their own special Black Friday sale with Transformers, Indiana Jones and more on Blu-ray. We'll report back with more on that offer, available during a set period of time tomorrow only, a little later today.