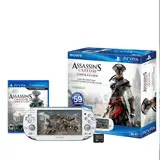 Amazon.com has performed a rare midday update of their Gold Box Deal of the Day as part of their Black Friday 2012 deals. This one is perfect for anyone looking to purchase a PS Vita as a gift this holiday season.
For at most the rest of today or while supplies last, Amazon is selling the Assassin's Creed III Liberation PlayStation Vita Bundle for only $179.99. That price is $70 more than it typically sells for making this deal one of the best Amazon has offered for all of Black Friday.
What's cool about this particular PS Vita bundle is the Playstation Vita hardware is molded in white as part of the connection to the snow of Assassin's Creed III Liberation. You can't get the white PS Vita hardware any other way than in this bundle, and now it's priced where you're basically getting the game and color upgrade for free.
Additionally, this bundle includes a special bonus valued at $65 that includes PlayStation All-Stars Battle Royale for PS Vita, a $10 credit to use toward "Assassin's Creed III" for Xbox 360 or PS3, and a 3 month trial to PS +. You will automatically receive this bonus after checking out.
Click here to purchase the Assassin's Creed III Liberation PlayStation Vita Bundle for $179.99 at Amazon.
Remember, because this bundle costs more than $25, Amazon will be shipping it for free. If you're in a state where Amazon doesn't charge sales tax then this is definitely the way to go.