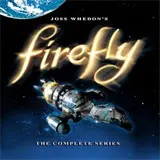 The calendar has flipped to November, and that means online retailer Amazon.com has begun their Countdown to Black Friday that will offer up deals every day leading up to the big deals during Black Friday week.
Joss Whedon is the focus of today's deals as Amazon has slashed the price of thirteen of The Avengers writer/director's past works on Blu-ray and DVD. These deals include Firefly: The Complete Series on Blu-ray for $18.49, Firefly: The Complete Series on DVD for $13.49, Serenity on Blu-ray for $8.49, Buffy the Vampire Slayer: The Complete Series on DVD for $65.99, Angel: The Complete Series for $55.99 and more.
Joss Whedon's next project sees him return to the small screen to write and direct the pilot for ABC's S.H.I.E.L.D. television series starring Clark Gregg. Collecting his past television works into a single Gold Box Deal of the Day seems like a fitting nod and maybe even offers a hint of what to expect from S.H.I.E.L.D..
Click here to browse or shop the Joss Whedon sale at Amazon.com, good for today only.