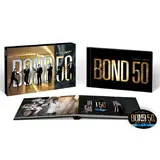 Update 2: Amazon.com has the Bond 50 Blu-ray set back in stock finally with a price of $154.49. There's no way to tell if it will go on sale again between now and Christmas, especially with how quickly it sold out during the last sale on Black Friday. If you just have to have it before Christmas, you can grab Bond 50 with free shipping at Amazon right here.
Update: With Black Friday in the rearview mirror, Amazon.com is ramping up for Cyber Monday with a new Gold Box Deal of the Day featuring the superb Bond 50 Blu-ray collection. For today only, Saturday November 24, Amazon is selling Bond 50 on Blu-ray for $99.99, or less than $5 per each of the 22 Bond films in the collection. I don't expect the set to be this low again until Skyfall is ready for Blu-ray in March.
Click here to buy Bond 50 on Blu-ray for $99.99 at Amazon, for today only.
Original article: In the mood for some Bond, James Bond after enjoying Skyfall at the box office. I admittedly haven't seen Skyfall but will be doing so a little later today. In the meantime, here's an awesome Black Friday Week deal running right now at Amazon.com.
Sometime earlier this week, Amazon dropped the price of the amazing Bond 50: The Complete 22 Film Collection on Blu-ray down to $129.99, a full 57 percent off the list price. Amazon had previously been selling this set in the $150-170 range so this new price is defintely quite welcome. Because it is more than $25, Amazon will ship it for free.
The Bond 50 Blu-ray set includes all 22 previously released James Bond 007 films and even includes an extra slot for Skyfall starring Daniel Craig, should you wish to remove that disc from its case and put it in this set early next year. There is also an extra disc dedicated to new bonus features. In other words, this is the ultimate James Bond Blu-ray set one can own.
Click here to purchase Bond 50 on Blu-ray for $129.99 with free shipping at Amazon.com, while the price lasts.