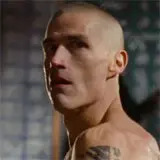 Lionsgate Home Entertainment will deliver the thriller Alex Cross starring Tyler Perry, an extremely cut Matthew Fox, Edward Burns, Rachel Nichols and Jean Reno to Blu-ray and DVD on February 5..
Alex Cross is based on novelist James Patterson's character that previously appeared in the films Kiss the Girls and Along Came a Spider as played by Morgan Freeman. Tyler Perry steps out from his comedic stable to take over the part and hunt a dangerous serial killer played by Fox.
The Blu-ray edition of Alex Cross will be presented in 2.4:1 1080p video and 7.1 DTS-HD Master Audio. Bonus features include an audio commentary with Rob Cohen, The Psychologist and the Butcher: Adapting and Filming Alex Cross featurette, and some deleted scenes.
Pre-order information for Alex Cross on Blu-ray is not yet available.