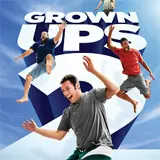 Adam Sandler's sequel Grown Ups 2, otherwise known as the comedy that beat Warner's expensive Pacific Rim on the same opening weekend, is headed to Blu-ray and DVD on November 5.
Sandler stars along with returning buddies Kevin James, Chris Rock and David Spade, and newcomers Salma Hayek, Maya Rudolph, Maria Bell, Shaquille O'Neal, Nick Swardson, Alexander Ludwig and Milo Ventimglia. The film opened to a big $41.5 million weekend and has gone on to earn over $213 at the worldwide box office, much higher than the film's $80 million budget.
Sony is presenting Grown Ups 2 on Blu-ray in 1.85:1 1080p video and 5.1 DTS-HD Master Audio. The featurettes listed below are exclusive to the Blu-ray edition.
Look Who Stopped By – A look at the cameos throughout the film
Mr. Spade's Wild Ride – Featuring David Spade as he prepares to be rolled down the hill in a tire
The Feder House – Construction of the sound stage where the Feder house was built
Eight deleted scenes
Shaq and Dante: Police Force Featurette
Pre-order Grown Ups 2 on Blu-ray and DVD combo for a discounted price at Amazon.com.