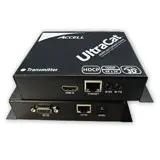 The Accell UltraCat HDMI Over Cat-5e High Speed Extender offers a sound solution to a specific home entertainment need: sending an HDMI audio and video signal across a long distance using an alternative type of cabling. Those with this issue are overwhelmingly in the minority, but they've been taken care of like royalty by Accell nonetheless.
To fully understand what this product does, you have to first understand the problem it's designed to solve. Imagine a family room with a television and the household's lone Blu-ray player hooked up to it. Let's say the family room is attached to a screened-in porch, and out on that porch is a smaller television for outdoor viewing with an Ethernet jack.
Now let's imagine the kids sat down to watch a Blu-ray movie in the family room, but when wanted to continue it out on the deck because the weather was nice. Unless you go buy another Blu-ray player, there are few solutions to get the signal from the player out to that second television. Likewise, adults may want to stream Netflix from that Blu-ray player out to the deck television.
Another more common problem would be contained within a home theater environment. Most rooms are pre-wired with Ethernet Cat-5 cable but not HDMI, as that type of cabling typically runs outside the wall and not inside it. You either run the HDMI cable along the wall and up to the projector, which would look silly, or find another way.
The Accell UltraCat HDMI Over Cat-5e High Speed Extender is able to pass full 1080p HD video (including Blu-ray 3D) and even future-proofed to 4K video, up to 7.1 channel lossless Dolby TrueHD or DTS-HD Master Audio, 100BaseT Ethernet, RS232 and infrared control signals over a Cat-5e or Cat-6 cable at speeds up to 10.2Gbps. In other words, you can plug in up to an HDMI 1.4 compliant cable from your Blu-ray player or a/v receiver to the Accell transmitter, connect the receiver to the transmitter via a Cat cable, and pass all the information from the Blu-ray to the Accell receiver which is hooked up to the television. All your remote control signals can also be passed through the Extender, which is full HDCP compliant.
My test used an Ethernet cable about 20 feet long as that's all I had. I noticed zero, as in no signal degradation from using a straight HDMI connection to sending the audio and video signals over the UltraCat Extender. Supposedly the UltraCat Extender can support this over 300 feet. That's a niche application but imagine trying to buy over 300 feet worth of HDMI cable.
I want to note that during a relatively short test, the receiver began to feel considerably warm. Accell literature suggests this as the receiver uses more power than the transmitter. That has to be kept in mind when setting up the receiver and transmitter.
I personally don't have a use for the UltraCat HDMI Over Cat-5e High Speed Extender. The majority of you won't, either.
For someone looking for a solution to an excessively long HDMI run where in-wall cabling is more practical than the more expensive HDMI route, this product does the trick.
– Dan Bradley