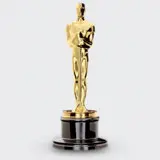 Tonight the 85th Annual Academy Awards will play out and determine which actors, actresses and filmmakers take home shiny golden Oscars to adorn their shelves or desks. In the major categories there are some choices considered to be shoo-ins and others that could shake out any number of ways. I couldn't resist taking my best shot at picking who will walk away with the golden trophy for Best Picture, Best Director, Best Actor, Best Actress, Best Supporting Actor and Best Supporting Actress.
In the Best Actress in a Leading Role category, Anne Hathaway is considered the strong favorite to win the Oscar for her performance in Les Miserables. It's almost unfair to the other actresses to have to compete with the non-dubbed singing performance Hathaway delivered. The other contenders including Amy Adams (The Master), Sally Field (Linicoln), Helen Hunt (The Sessions) and Jacki Weaver (Silver Linings Playbook) all put forth strong performances. It's too hard to pick against Hathaway.
Best Actor in a Supporting Role is a trickier pick to nail down. I like Alan Arkin in Argo but was it really the best? Tommy Lee Jones in Lincoln was a solid performance but a little too close to his other performances for my liking. I think it comes down to Robert De Niro (Silver Linings Playbook) and Philip Seymour Hoffman (The Master), with the former winning the Oscar.
The biggest Oscars shock would be if Daniel Day-Lewis did not win Best Actor in a Leading Role in Lincoln. Props to Hugh Jackman, Joaquin Phoenix, Bradley Cooper and Denzel Washington, but Day-Lewis is as "in the bag" as it gets.
The favorite for Best Actress in a Leading Role is Jennifer Lawrence for Silver Linings Playbook. The film continues to perform well at the box office and she has all the momentum heading into tonight's ceremony. I like Naomi Watts' performance in The Impossible but think it comes down to Lawrence and Jessica Chastain (Zero Dark Thirty) with Lawrence scoring the big win.
Best Picture seems destined to go to Argo and I agree that it will win, but I wouldn't be shocked if Les Miserables or Silver Linings Playbook pulled off the upset. Zero Dark Thirty should have been amongst the top picks, but it seems to have no support and the negative attacks from the media over the use of torture in the film aren't helping its cause or image.
It will be odd if Argo wins Best Picture without Ben Affleck being nominated for Best Director. I'm going for an upset in this category and picking Ang Lee for Life of Pi over the "safer" favorites Steven Spielberg and David O'Russell.
The 2013 Academy Awards start time after the Red Carpet arrivals wraps is 8:30pm EST/5:30pm PST. A free online live streaming version is available to watch here on your computer, mobile device or tablet / iPad. After the Oscars wrap, we'll chime back in with quick links to all the winners on Blu-ray, some of which are already available while others are not due to arrive in stores until March or April.