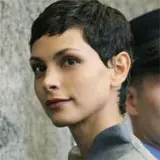 This past weekend's Television Critics Association summer press tour stop at ABC divulged the re-imagining of V: The Series will premiere on Tuesday, November 3 at 8pm, squashing rumors of an early 2010 bow.
Sci Fi Wire was in attendance and published what might be consider spoilerish so continue at your own risk.
If you're old or curious enough to have seen the original V miniseries or show, you may remember the scene that became water cooler talk for days on end (today that would be Twitter chatter). Visitor leader Diana, so charming and sweet, gulped down a big furry rat without warning. The new V promises to have a similar, though not identical tasty scene.
"We want to find a way to do it," executive producer Jeffrey Bell said, but warned it would not be a 1:1 translation. "Been there, done that." He did add Visitor leader and star Morena Baccarin will munch on some kind of rodent.
Bell went on to confirm other iconic scenes from the original V miniseries would be paid homage to in the new show, and he would also find a way to work in cameos for the old show's actors.
Check out the 3-minute promo reel for V: The Series below.
> >