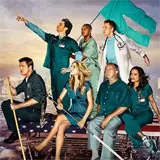 For the past two years ABC and Buena Vista Home Entertainment have pledged only their top two rated current television series, Lost and Grey's Anatomy, to Blu-ray Disc. Other series including Ugly Betty, Desperate Housewives, Scrubs, Private Practice and others have remained DVD exclusive.
Today you can cross one of those series off the aforementioned list in what could be a sign of ABC and Buena Vista beginning to truly embrace Blu-ray on TV. Scrubs: Season Eight will be coming to Blu-ray Disc this holiday season. The previous seven seasons of Scrubs on Blu-ray will, for now, remain MIA.
The eighth season of Scrubs with Zach Braff and his cohorts has previously been announced for a DVD bow on August 25. The Blu-ray version won't arrive on store shelves until November 17, almost three full months later.
Tech specs are still hazy but I can report all 18 episodes will span 2 discs. Probable but unconfirmed specs are 1.78:1 1080p video and some flavor of lossless audio.
Bonus features are almost identical to the DVD version with the exception of two additional never-before-seen webisodes.
My Bahamas Trip
Deleted Scenes
Bloopers
Alternate Lines
10 Webisodes
2 Additional Webisodes (BD exclusive)
Retail pricing for Scrubs: Season Eight on Blu-ray is $54.99 for the two-disc set (that is not a typo). Amazon.com pre-order pricing should come in around the $40 range and I'll be sure to pass along that link once available. In the meantime, enjoy a sneak peek at the likely final cover art below.