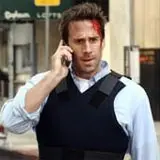 You can now stop wondering if FlashForward will be on air long until to reach the April 29, 2010 "future" date for the visions Joseph Fiennes and others experience on the show.
In a simple yet effective post on Twitter this morning, ABC confirmed FlashForward has been picked up for a complete full season. The Tweet reads, "FlashForward is picked up for a full season order! Congrats!"
The news comes immediately following freshly released DVR numbers that reveal FlashForward picked up an extra 2 million viewers on top of previously revealed 12.5 million live viewers who watched the premiere. Viewership is expected to shrink as the season wears on but will not affect the season running its course into next spring.