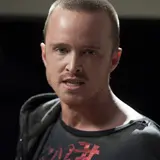 Need for Speed star Aaron Paul is in ongoing discussions with AMC to land a recurring role on the Breaking Bad prequel spinoff series, Better Call Saul, according to reports at E! and the AP.
E!'s source close to the production of Better Call Saul informs them that official casting does not get underway until later in March. However, Vince Gilligan and his team have already been in discussions with Paul about reprising the role of junkie and underachiever Jesse Pinkman in a recurring manner, meaning he would appear in multiple episodes as opposed to a simple one-off cameo.
The AP backs up E!'s report saying that they spoke with Paul during his media rounds for Need for Speed and the actor confirmed that he is in "serious" discussions to appear on the show. Given Paul's public appreciation for Gilligan and Breaking Bad, the six-year series that launched his career, the only obstacles that might have to be overcome are salary and scheduling given Paul is a more in-demand actor now then when he first signed up for Breaking Bad back in 2007.
E! is also reporting that Better Call Saul producers are equally interested in Bryan Cranston making a cameo appearance or two, which seems to back up the notion that Better Call will at some point overlap with the events of Breaking Bad. Gilligan has even said that Better Call Saul could theoretically pay a trip to the future beyond Breaking Bad considering Breaking Bad fans are already seasoned viewers accustomed to Gilligan's time jumps.
Better Call Saul is being designed as a prequel to Breaking Bad that focuses on the work of Saul Goodman (Bob Odenkirk), the morally challenged injury and criminal lawyer that will do anything to keep from having to step foot in a courtroom for his shady clients. Saul is no fan of the police and DEA, and breaks the law regularly in order to make a quick buck.
Odenkirk is obviously set to front Better Call Saul, and he will be joined by Jonathan Banks as Mike Ehrmantraut, the former police officer-turned-hitman who worked tirelessly to stash away money for his granddaughter during the events of Breaking Bad. Mike was technically an employee of Gus Fring (Giancarlo Esposito), though Esposito is currently working on the NBC series Revolution so his status for Better Call Saul remains unknown for the time being.
Better Call Saul begins shooting in May, hopefully with Aaron Paul on board in some capacity, and will premiere on AMC this November.