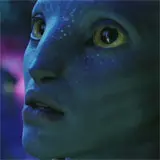 Friday night I attended one of the many nationwide IMAX presentations of the preview reel for James Cameron's much-anticipated sci-fi opus, Avatar. A friend of mine, who also attended the preview, informed me that the sold-out 12:01 am Friday screening of Inglourious Basterds he attended had a couple of previews in front of it. One was for the new Christopher Nolan film Inception, which showed little but was met enthusiastically. Avatar's teaser was next showing much but met with dead silence. The Friday presentation, playing to a barely half-full theater, did receive applause. But instead of the rabid fanboy cheers Fox might have been hoping for, the appreciation was both sparse and reserved.
I was not one of those people but that does not mean I hated what I saw. I was very impressed by the visual splendor put forth in the two-minute teaser trailer. The same can be said about the footage shown on Friday. The 3-D effect was impressively done and the CG effects were close to being pretty damn flawless (I'm sure there is still plenty of work to do prior to release date). I'm not sure if the effects were as envelope-pushing as they were in Cameron's other films such as Titanic, The Terminator or The Abyss, but they certainly are first rate. I'm pretty sure that come Oscar time, Avatar has a strong chance at nabbing this year's Best Visual Effects Oscar. The brief snippets of performances from Sam Worthington, Sigourney Weaver, Zoe Saldana and in particular Stephen Lang showed promise as well.
So why did I leave with a rather nonchalant attitude? Well, I didn't think the actual presentation was handled very well. Scenes started, ran for a couple of minutes and then abruptly went to black. This stop-and-start approach reminded me of a DVD "Deleted Scenes" supplement; one you watch, shrug your shoulders and move on. The other issue I had was that aside from a really brief story synopsis from director James Cameron in his introduction, we never get a grasp on what Avatar is actually about. After seeing the footage, I told my friend how I thought the story would play out. I came up with an otherworldly version of Dances With Wolves. I love that movie dearly, but I hope I am dead wrong.
Here is what I would do were I Cameron or Twentieth Century Fox in regards to the preview presentation. Instead of stopping and starting footage, edit the selected scenes together to present a better-flowing, and more involving, experience. Better yet, do what Christopher Nolan and Warner Brothers did back in December of 2007 with their extended preview for The Dark Knight: show one scene, preferably a big action scene, in its entirety and finish off with a trailer or montage of other scenes from the film (the Avatar presentation did have snippets of scenes from the teaser at the end). I find it hard to believe that Cameron doesn't have at least one or two major scenes in the first half of Avatar. When I first saw the Dark Knight preview, I wanted to see it again – at least two or three times more – immediately. As for Avatar? I had a chance to watch it a second time immediately afterwards but opted not to.
Obviously you cannot judge a two hour-plus film on sixteen minutes of selected footage, but you should be able to determine whether you are excited or not to see the final product. As for myself, I was 100% indifferent. Of course I will see the film the first chance I get. But if the nonchalant reaction I experienced last night is not an isolated case, then I agree with many of my fellow online journalists and industry analysts that Twentieth Century Fox has their hands full when it comes to selling the film. Sure, the publicity machine will be working overtime over the next few months. The key to the marketing campaign's success will be how it is done. Fans of Cameron and science fiction will show up, but what about the average ticket buyer? If Fox can't find a way to sell Avatar to Joe and Jill moviegoer, it is not going to be a very merry Christmas at Fox.
– Shawn Fitzgerald