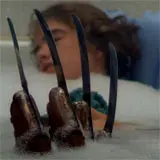 All seven original Nightmare on Elm Street films starring Robert Englund are coming to Blu-ray stateside on March 5, 2013 in the A Nightmare on Elm Street Collection, previously only available overseas or as an import.
Spanning five discs, this set was originally slated to be a Best Buy exclusive until Warner Bros. decided to give it a non-exclusive release in North American instead. Expect 1080p transfers and 5.1 DTS-HD Master Audio tracks on all the inclusive Nightmare films, as well as the all-new bonus feature 'The Life and Times of Freddy Krueger.'
SRP has been set at $59.99 so look for in-store pricing and pre-orders to come in between $40 and $42.