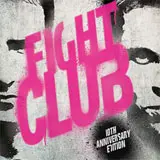 Fox Home Entertainment has released the first images of the upcoming Fight Club on Blu-ray Disc packaging.
At first glance the outer sleeve doesn't look like it belongs to the Blu-ray line at all. In fact, the only visible Blu-ray logo is hidden on the spine. Fox may choose to include a sticker on the outer plastic wrap to denote Blu-ray but otherwise Fight Club will stick out like a sore thumb on a Blu-ray store shelf.
Once you get home you can choose to ditch the outer packaging and go with the standard Blu-ray snap case hiding inside, much like how most owners of Batman Begins on Blu-ray handled that release. I haven't seen the outer case of my Batman Begins Blu-ray since the day it arrived in my home.
Check out a clear image of both packaging layers below (click to enlarge) or head to the original Fight Club on Blu-ray announcement to read up on the bonus features.
Click here to pre-order Fight Club on Blu-ray at Amazon.com.