AMC's The Walking Dead had been a notable omission amongst the burgeoning 1:6 scale high-end movie and television action figure lines from the likes of Hot Toys, Sideshow Collectibles and other companies. That was until San Diego Comic-Con last week when a licensing agreement was announced between AMC and ThreeZero for 1:6 scale figures based on the popular ongoing television drama.
The Walking Dead is the highest rated cable series of all-time so naturally there is a lot of pent up demand and anticipation for this line of high-end figures. Collectors eager to see Rick Grimes, Daryl Dixon, Glenn, Maggie and other favorites have been relying on highly priced custom creations to add these characters to their collections. Now all eyes are directed at ThreeZero to fill this demand and the pressure is on for them to deliver.
Prototypes for three figures were put on display at Comic-Con this past week and weekend: Meryl Dixon (based on the likeness of Michael Rooker) and Michonne's two zombie Pets. Fan reaction to the Pets has been universal praise. Meryl, however, has been met with apprehension based on the figure's inaccurate head sculpt details and size.
ThreeZero owner and designer Kim Fung Wong took some precious time out of his schedule to answer some initial questions we threw his way regarding this new The Walking Dead 1:6 scale figure collection, both in terms of what's already been announced and displayed, and what's coming down the pipe. It's still early in the proces and we have many more questions to ask, so consider these answers a primer with more to come in the future.
Do you anticipate releasing Michonne's zombie pets individually, as a two-pack, or both options?
Kim: They will be available as singles and in a two-pack with a variant (note: we will be following up on what this variant is)
Can we assume that Michonne is on the way given the early inclusion of her pets?
Kim: Michonne is on the way!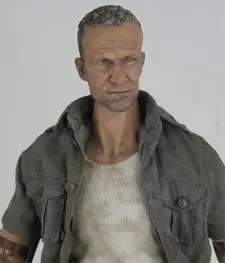 It looks like Season 3 is the emphasis of the first wave of figures. Going forward, will you pursue characters/outfits from the current season, or will you look back as well to characters not around anymore (Shane, Dale, T-Dog, Bicycle zombie, etc.)?
Kim: We are interested in making figures from season 4 as well. However, the licensor (AMC) was unable to provide the character images prior to the season 4 release. The characters for the first wave of figures are from Season 3. Expect some iconic zombies that cover all seasons. (note: we will try to get a better read on past season deceased characters in a future Q&A).
You have shown with the pets a willingness to think beyond the standard body type. Might we see this creativity extended to half-size figures like Carl or maybe even zombie Sophia or zombie Penny?
Kim: This is very possible.
A general consensus online is that the Merle head sculpt needs some work, both in terms of likeness and its size (too small). Do you intend to rework his headsculpt before release, and to assure fans, is it your intention to create the human figures to match their appearance on the show as much as possible?
Kim: I understand that the Merle head sculpt is not perfect as we had to rush it out in order to display it at SDCC. We are currently reworking this head sculpt.
Is there potential down the road for larger accessories like Daryl's bike if the line proves successful?
Kim: This is not likely to happen.
Can you tell us about the pets' articulation points and how they can be posed?
Kim: The Pets don't has arms, but both shoulders have joints as well as the torso, waist, and the neck. The legs are articulated as a typical 1:6 scale figure would be.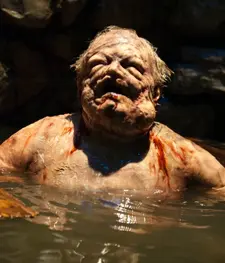 What price are you aiming for, and when might we see the first figures available for sale?
Kim: $130 to $150 (U.S. dollars) each is the target. Pre-sales are expected to begin in the fourth quarter of this year.
Lastly, can you give us an exclusive hint about another The Walking Dead figure currently in the works?
Kim: We are working on Daryl Dixon, Rick Grimes, Michonne, the Well Walker, and more…
Special thanks to Kim Fung Wong for taking a short break amidst his hectic schedule to answer these questions.