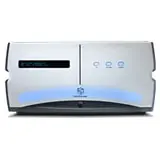 Late last night, Kaleidescape announced the launch of their online digital store in conjunction with a multi-year agreement with Warner Bros. Digital Distribution. It's a bold move for a company that has been around for years, offering high-end disc-based media storage and delivery solutions to home theater owners enthusiasts with deep pockets.
I have always thought that a company would partner with a studio to offer the full contents of a Blu-ray or DVD release via digital distribution. Kaleidescape is doing just that with Warner Bros., ensuring customers who purchase Warner Bros. titles via the Kaleidescape Store are getting the precise, unaltered contents of a DVD, and eventually a Blu-ray, and are able to see what they already own in real-time while browsing the store. The only feature Blu-ray downloads will not include are BD-Live. Everything else from the exact same 1080p picture and lossless audio, to a random bonus feature, to a mono audio track option will be included with the purchase.
Kaleidescape is expected to offer a mid-level storage solution in 2013 that will cost considerably less than their current $15,000 and up solutions, taking their vision of digital distriubtion, organization and playback one step closer toward mass adoption. That's where we are headed, folks. Much like the CD is now a dinosaur compared to digital download and iTunes, Blu-ray and DVD are headed down a similar path, albeit at a much slower pace due to the larger storage capacity required.
Cheena Srinivasan, Kaleidescape Founder & EVP, was kind enough to answer some of the questions I had about the Warner Bros. deal and where their company is headed now that they have entered the digital distribution arena. Please note that I do not own nor have I ever used a Kaleidescape System.
Films have been available for digital download or video on demand for years now. With this new Warner Bros. deal, you are offering someone the opportunity to purchase the entire physical disc contents – bonus features and all – via the Internet. I have personally been waiting for a company or studio to attempt this for a long time. How did this decision and deal come about?
Kaleidescape's founding vision was to deliver high-quality movies to the home over the Internet. We built the Kaleidescape System for that purpose. Hollywood was slow to embrace digital delivery of high-quality movies, so Kaleidescape Systems were limited to DVDs and Blu-ray Discs. Our typical customer has a collection of DVDs and Blu-ray Discs about the size of the national average, which is currently about 110 movies. Our customer then buys an average of 51 titles per year, which is over seven times the national average. We believe this higher purchase rate for Kaleidescape's customers results from the reduced hassle and increased pleasure of owning and enjoying a collection of motion pictures that a movie server provides.
Kaleidescape approached Warner Bros. Digital Distribution with the idea of delivering all the same titles found on DVD and Blu-ray Disc, with the same audio and video resolution, and all the same extras, over the Internet to secure movie servers like the Kaleidescape System. We felt the time was right because many consumers are opting for the convenience of Internet streaming in spite of the fact that selection is limited, the extras found on DVD and Blu-ray Disc are missing, and the video and audio quality are noticeable lower. This new business model would provide the movie server owner the convenience of electronic delivery to their home without compromising selection or quality. Warner Bros. recognized that the Kaleidescape System is the perfect platform architecture for a business model like this.
When do you plan for the first Warner Bros. catalog titles to be available via the Kaleidescape Store for purchase, and what are the price points you are targeting?
The first DVD quality titles are available today (December 11, 2012), with Blu-ray quality titles to follow in the next few months.
The Kaleidescape Store is the first service to deliver movies over the Internet with the same video and audio quality as Blu-ray Disc and DVD – including multichannel lossless audio, foreign language audio, subtitles, and all of the extra content. We're also the first to seamlessly check the UltraViolet rights into the customer's locker automatically when they purchase the movie in Blu-ray or DVD quality. Our pricing strategy is not to undercut the other available options as a new low-cost leader, but rather to be competitive enough with the physical media that price isn't a motivator to keep buying discs. Prices vary by title and change over time. You can view the pricing here. For example, the recent release Sherlock Holmes: A Game of Shadows is currently priced at $14.49 in DVD quality, whereas the family classic Elf is priced at $9.49.
Will future Warner Bros. new theatrical releases like The Hobbit: An Unexpected Journey be available via the Kaleidescape Store day-and-date with Blu-ray and DVD?
Yes.
The Warner Bros. deal seems like it could be the springboard for other studios utilizing UltraViolet to come on board. Is this something you are actively pursuing?
Yes, we're working with other studios. Our ultimate goal is to have every title on DVD or Blu-ray Disc available for electronic delivery in precisely the same quality, with the same extra content, and at a competitive price.
When someone takes the time to understand the incredible creativity and licensing terms that Warner Bros. and Kaleidescape have brought about, it will become obvious that the focus of the deal has always been the consumer first. If this solution brings value to the consumer, it will help studios sell lots of content and, of course, Kaleidescape sell lots of movie servers. The no-compromise solution to having great quality and home and the convenience of accessing the library from the cloud with UltraViolet will make it appealing for consumers to increase their movie purchases rather than simply rent.
Current Kaleidescape customers that have loaded Warner films into the system have the option of upgrading those versions to UltraViolet or, if the upload came from a DVD, to high definition. Can you talk about the costs and process of doing this?
When we add UltraViolet support this spring, our customers will have a simple automated process for adding UltraViolet rights for streaming and download to mobile devices. We plan to offer UltraViolet rights for $2 in the same resolution (SD UV for DVDs, HD UV for Blu-ray Discs). If you've imported the DVD version of a film to your Kaleidescape System, we're very excited to offer an industry first: an upgrade to a Blu-ray quality download, including HD UV rights, for just $8.
Michael Malcolm, Founder, Chairman and CEO of Kaleidescape, mentioned in the press release that "this consolidation (of film libraries) is a prerequisite for mass adoption of electronic movie purchases." Is pushing your price points down and mass adoption of the Kaleidescape system a possible future direction for your company?
We believe that the time is right for devices like the Kaleidescape System, which enable consumers to enjoy a library of movies using a simple user interface. Storage costs have come down and the motion picture studios have embraced an electronic ownership model in UltraViolet. Kaleidescape's entry level system has come down in price by over half over the years, and we think that technology changes and manufacturing efficiencies will enable us to build a premium movie server at an even more attractive price point. But we also expect that other consumer electronics companies will follow our lead and build similar products for the lower-end of the market. Kaleidescape would then continue to innovate and provide the world's finest movie watching experience for the home for the higher-end of the market.
For those unfamiliar with Kaleidescape, please walk us through a quick example of how someone would take advantage of the initial Warner Bros. titles as well as the addition of UltraViolet next March.
The first step would be purchasing a Kaleidescape System and loading your DVD and Blu-ray movies. Here's a short video that explains that process:
The next step would be to link the Kaleidescape System to the Kaleidescape Store, so you can purchase films for electronic delivery in precisely the same audio and video quality as the DVD, or – soon – the Blu-ray Disc. Here's a short video that explains that process:
Has Kaleidescape considered supporting Blu-ray 3D in the future? Or console-based video games that would use the same display device as movies?
We don't hear nearly as much demand for 3D as we do for Internet delivery of very high-quality content. But our roadmap does include a player that supports it. We don't plan to extend ourselves into the video game console business – there are still too many opportunities to innovate in the movie space.
Learn more about the Kaleidescape System at the official Kaleidescape website, or visit the Kaleidescape Store to browse the Warner Bros. catalog.
– Dan Bradley