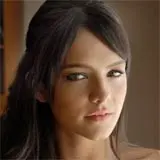 Entertainment runs in the veins of the Vergaras. Sophia Vergara has become a mainstay on Modern Family and is now beginning to break into feature films, while younger sister Sandra Vergara is primed to take the world by storm.
Having done some small TV work here and there, Sandra made her feature film debut with the 2011 remake of the cult classic Fright Night. I had a chance to talk with her about the Fright Night role, her co-stars, and what she's got coming up next.
Most people scoff at the notion of remakes, but I personally thought Fright Night turned out great and your character was definitely one of the highlights. What was it that initially drew you to the project?
Mainly it was that Colin Farrel was playing the vampire. I was like, "Yay!" [Laughing] That, and mostly I loved the director, Craig Gillespie, and I love his film, Lars and the Real Girl. I read about Fright Night and I thought, "If I'm going to do a remake, what's best than to do a remake with such a good director and such a great cast!" It wasn't hard. I was sold immediately. It was very exciting.
Tell us a little about your role as Ginger, girlfriend of Peter Vincent (portrayed in the film by David Tennant).
My character grew over time. I wasn't ready to be Peter Vincent's girlfriend. I had read for Peter Vincent's assistant but then when I got to the set in Albuquerque, I saw that I was going to play something that was a better role. It was much more fun and amazing.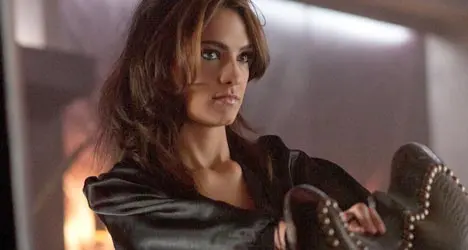 Yeah, I had read that you had initially came on in a smaller capacity but ended up with the Ginger role. Did the character already exist or was it something that was created specifically for you?
No, it actually existed for a guy.
Oh?
Yeah, it was supposed to be his assistant as a male, so I guess they fired that actor after they liked my audition so much.
[Laughing] They were like, "Put her in there! We need her in there!"
Yep. And then they waived to him, "buh-bye!" [Laughing]
[Laughing] Almost all of your scenes in the film are with David Tennant and you two seemed to be having a good time within the scenes. Was it as much fun working together as it seemed?
He was very, very great. We had instant chemistry. He's such a good actor and so easy to work with. It was just, you know, a piece of cake. I didn't have to try anything. The director gave me a lot of space to be myself and try anything and any improvisation that I wanted. You know, he was better than I thought he was going to be. It was pretty exciting stuff.
He's (David Tennant) really talented. I wasn't expecting him to be such a crazy good Peter Vincent. He was like this mix between Russell Brand and, oh I don't know, a crazy magician!
[Laughing] Yes, definitely! It was quite a big contrast from his Dr. Who persona.
Yeah, for sure!
Having gone through the Blu-ray for Fright Night, I was really excited to go through the bloopers hoping for some improvs between you two but there wasn't a single one and I was kind of bummed. Hearing how well you guys got on now I'm even more bummed. Hopefully there are some clips out there somewhere.
I don't know why. There was some really funny shit there!
I can only imagine! Moving on to acting in general, what was it that initially led you down this career path?
You know, I always knew I was good at this. I always felt like I belonged there. I even felt like that back when I was really young, in high school and middle school, that I was born to entertain people; to make people laugh. I've always been very dramatic. In general, Colombian people are very dramatic! [Laughing]
[Laughing]
I've always been able to switch from crying to laughing in seconds; to go from zero to nine. I don't know. It might be bi-polar or it might be talent, but either way it works!
With Fright Night having been a fairly high profile first film for you, I'm sure you've gotten quite a few offers for new projects. Anything on the horizon you'd like to share?
Yes! I'm working on a pilot called Dumb Girls for MTV. It's about a couple of girls who are very smart but are dumb with men, kind of like a younger Sex and the City. It's a lot of fun. I play the spicy and funny and sexy girl friend, but, you know, I'd rather play that than the nerdy one! [Laughing]
So, I can't complain. I think it's a great role for me. And hey, if it works it works! Hopefully, we will get to see it next year!
Awesome! We'll definitely be keeping an eye out for it. Thanks so much for talking with me and best of luck with Dumb Girls!
Thank you!
– Matt Hardeman
Fright Night is now available in stores everywhere on Blu-ray 3D combo pack, Blu-ray 2D combo pack, and DVD. Click here to shop for Fright Night in the format of your choice for a discounted price at Amazon.com.