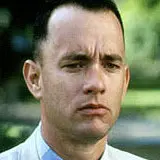 Yesterday I revealed the first details on Forrest Gump's Sapphire Series Blu-ray Disc edition due in stores on November 3. Part of that reveal hinted at a possible "Box of Chocolates" gift set edition which I can now confirm is indeed on the way.
The Forrest Gump: Sapphire Series Box of Chocolates gift will be available for either DVD or Blu-ray and include the appropriate two-disc package, a "chocolate box" with chocolate scent, a commemorative booklet and a replica Forrest Gump feather bookmark. It will not include actual chocolates as the name implies, unfortunately, but will smell good enough to eat.
Paramount has also shared a robust breakdown of the bonus features highlighting what is new and exclusive to Blu-ray:
NEW: Greenbow Diary — This piece is constructed in the style of a classic verité documentary, allowing the viewer to experience what it was like on the set at the incredible shooting locations in the American South.
NEW: The Art of Screenplay Adaptation—This segment dissects the process of adaptation and features new interviews with author Winston Groom, screenwriter Eric Roth and producers Wendy Finerman and Steve Starkey.
NEW: Getting Past Impossible: Forrest Gump and the Visual Effects Revolution—This featurette celebrates the technical achievements of the film with a look at some of the "invisible" effects that served the narrative and interviews with VFX experts Ken Ralston and Doug Chiang.
NEW: Little Forrest—This segment explores the development of the character Forrest Gump from Tom Hanks' research into regional dialects to his meeting with the actor who would play young Forrest, whose natural voice helped inspire Hanks' characterization.
NEW: An Evening with Forrest Gump— On April 3, 2009, Robert Zemeckis,

Tom Hanks, Gary Sinise and Eric Roth gathered at the USC School of Cinema for a screening of the film followed by a panel and Q&A for film students. The lively, uncensored reunion was captured in HD.

NEW: Musical Signposts to History — This branching feature includes an introduction by renowned music journalist Ben Fong-Torres and 44 pods throughout the film allowing viewers to access video content that illuminates the iconic songs that helped set the stage for the film's various time periods.
Commentary with Robert Zemeckis, Steve Starkey and Rick Carter
Commentary by Wendy Finerman
The Magic of Make-Up
Through the Ears of Forrest Gump — Sound Design
Building the World of Gump — Production Design
Seeing is Believing — The Visual Effects of Forrest Gump
Screen Tests
Trailers
The standard Gump Sapphire Series release is now available for pre-order at Amazon.com and can be secured by clicking here. The "Box of Chocolates" gift set carries a retail price of $44.99 and is not yet available for pre-order. Look for that link, as well as high-res cover art of both sets, in the near future.