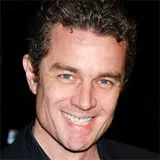 Hot off the heels of scoring Patton Oswalt for a recurring role in Caprica, SyFy and series producer/writer Jane Espenson have landed another big catch for the new series.
Entertainment Weekly's Michael Ausiello is reporting James Marsters will also join Caprica and be part of a "sizeable" multi-episode story arc.
"Marsters will play a dangerous terrorist leader by the name of Barnabus Greeley in a minimum of three episodes," offered Ausiello. "Driven by desires both moralistic and carnal, Barnabus is as lethal as he is unpredictable."
Sounds like a piece of cake for the man who made blond vampires cool in Buffy the Vampire Slayer and its spin-off series, Angel. If his role is anywhere near as slick as Richard Hatch's reformed terrorist character Tom Zarek in Battlestar Galactica then we're all in for an unpredictable treat.
Caprica is on track to kick off its first season on January 22, 2010.