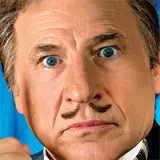 Online retailers DVDEmpire.com and Amazon.com have both added active pre-order listings for The Mel Brooks Collection on Blu-ray Disc with an SRP of $139.99.
Per the listings, the 9-disc set will include previously released Brooks' films on Blu-ray Blazing Saddles, Spaceballs and Young Frankenstein, along with newcomers High Anxiety, History Of The World Part I, Robin Hood: Men In Tights, Silent Movie, To Be Or Not To Be and The Twelve Chairs.
A little trivia: Robin Hood: Men in Tights will mark the fourth Robin Hood adventure to appear on Blu-ray. The first three are The Adventures of Robin Hood with Errol Flynn, Robin Hood: Prince of Thieves with Kevin Costner and the first season of BBC's Robin Hood television show.
Pre-order The Mel Brooks Collection on Blu-ray at Amazon.com.