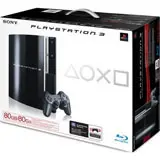 Online retailer Amazon.com has continued to run their popular Blu-ray Disc promotion that offers $100 off the purchase of a select Blu-ray player with the purchase of four Blu-ray titles.
By far and away the most popular title in the promotion is Batman Begins. Since the promotion first appeared, Batman Begins has enjoyed a consistent stay in the number two Blu-ray bestsellers sale spot under its sequel The Dark Knight.
The players being offered in the deal are the 80GB PS3 console at $399.99, the Sylvania NB500SL at $207.92 and the Samsung BD-P1500 at $205.98. Since last weekend, the Sylvania has gone up $10 and the Samsung has gone down $5.
Some of Warner's best titles are represented in the eligible list for the promotion including aforementioned Batman Begins, Speed Racer, Goodfellas and The Corpse Bride. You could even swap in 10,000 BC or Full Metal Jacket and come away floored by your first Blu-ray experience purchased at a sweet discounted price.
Other offers are popping up at retailers like Best Buy, Circuit City and Target that will offer players around the $200 mark beginning Sunday. With the Amazon deal, you could walk away with a player and four movies for under $170.
Click here to see all products being offered in the deal, as well as instructions to get the $100 discount.