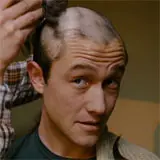 Summit Entertainment will release the drama/comedy 50/50 starring Joseph Gordon-Levitt, Seth Rogen, Anna Kendrick, Bryce Dallas Howard and Anjelica Huston on Blu-ray and DVD on January 24, 2012.
50/50 was produced for a mere $8 million under the direction of Jonathan Levine, but went on to make over $33.3 million at the domestic box office behind strong critical reviews and positive word-of-mouth. Though the cancer diagnosis and subsequent struggle Joseph Gordon-Levitt's character endures is a somber subject, the infusion of well-timed comedy struck a balance that moviegoers felt was just right.
I do not have any additional information about the 50/50 Blu-ray release at this time, but will certainly pass along any updates as they are received. In the meantime, check out the 50/50 theatrical trailer and Blu-ray cover art below.
Click here to pre-order 50/50 on Blu-ray for a discounted price at Amazon.com.