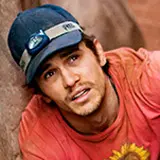 Update: Bonus features have been added.
Hot on the heels of scoring Best Picture, Best Actor and four other Oscar nominations, Fox confirmed this morning via Twitter that Danny Boyle's 127 Hours starring James Franco is coming to Blu-ray Disc and DVD on March 1.
While we wait for the finalized press release that will detail the bonus features, the cover art has become available confirming it will not include an inclusive DVD but will include a digital copy. I will update this news post with the bonus features as they are released.
Bonus features include:
Commentary with Danny Boyle, Christian Colson & Simon Beaufoy
Search & Rescue – The events that aided the search and rescue of Aron Ralston
127 Hours: An Extraordinary View – A unique collaboration between the director and actor
Deleted Scenes
God of Love: short film by Luke Matheny
Digital copy
You can pre-order 127 Hours on Blu-ray for $27.99 at Amazon.com.