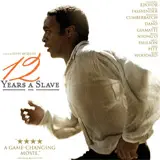 Fox Searchlight and Twentieth Century Fox's home entertainment division is jumping for joy today the same way director Steve McQueen did last night following his acceptance speech for the 12 Years a Slave Best Picture Academy Award win. With a pair of Oscar wins came renewed interest in the powerful film, and that interest has turned into a spike in Blu-ray pre-orders just ahead of the home video release date as well as a theatrical expansion.
12 Years a Slave on Blu-ray and Digital HD (the combo does not include DVD) had cracked Amazon's Blu-ray bestsellers chart maybe once or twice since going up for pre-order. Flashier films like Disney's Frozen and Lionsgate's The Hunger Games: Catching Fire were staples on the chart since their first day of availability for pre-order.
After last night's Oscars win for Best Picture for producer Brad Pitt and his team, 12 Years a Slave crept into the top 10 Blu-ray bestsellers at Amazon. By early this morning it was jumping between the eighth and ninth positions. Now, almost 24 hours after the film's big Oscars wins, which also included a Best Supporting Actress Oscar for Lupita Nyong'o, 12 Years a Slave has taken over the fourth position.
Click here to purchase 12 Years a Slave on Blu-ray for $19.96 at Amazon, 50% off the $39.99 list price.
12 Years a Slave on Blu-ray would be in third place if The Wizard of Oz: 75th Anniversary Edition weren't on sale right now. Otherwise only The Hunger Games: Catching Fire, which comes out this upcoming Friday, and Frozen, due out later this month and entrenched in first place, are ahead of 12 Years a Slave.
Despite 12 Years a Slave hitting Blu-ray and DVD tomorrow, Fox Searchlight is planning a massive expansion in theaters to meet the swelling demand. According to THR, Fox Searchlight is bumping the theater count from 411 to over 1,000, enough that the film could tally another $2 million or more on top of its $50.3 million domestic gross through Sunday.
This past weekend saw 12 Years a Slave get a big boost at the box office as the Academy Award ceremony loomed. It jumped nearly 87% from the previous weekend with $975,931 in business for a per screen average of $2,375.