'Wonder Woman 1984' Review: Careful What You Wish For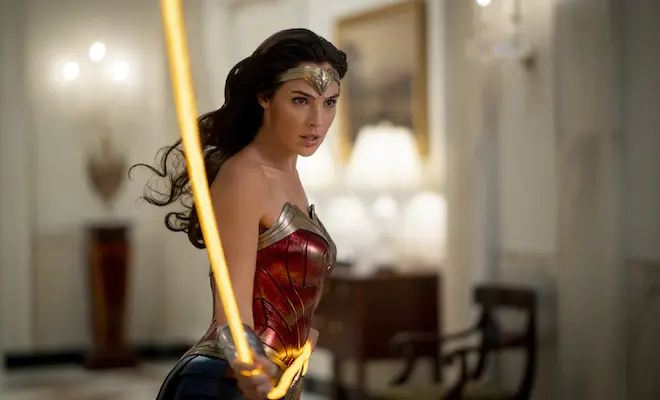 I feel sorry for Warner Bros. The year 2020 has not been kind to the studio, as some of the biggest and best films on their slate were postponed from release due to the pandemic. Now, they are in a PR nightmare for their decision to release their 2020 films in 2021 in both theaters and the HBO Max streaming service on the same day. The first of these films is actually a 2019 release that got pulled for a better opening weekend, and that too bit the studio on the behind. Wonder Woman 1984 was originally scheduled to release last November, but was pushed to a summer 2020 opening. And, well, that never happened. For any film. Now that WW84 is coming to select theaters and HBO Max on Christmas day, were the designed delays worth it?
Wonder Woman 1984 once again stars Gal Gadot as the iconic DC heroine. As the title suggests, the story takes Diana Prince from the 1920s to the 1980s, where she works at the Smithsonian as an art appraiser. The setting and time period also frees the film from having to tie into any Batman/Superman shenanigans, as the rest of the Justice League is left on the sidelines for this outing.
Diana works with a new gemologist, Barbara Ann Minerva (Kristen Wiig), who is called upon to identify a rare crystal statue that was involved in a mall heist that opened the film. The stone turns out to be something more, and grants wishes to whosoever holds it. Before either woman can discern if it is myth or reality (and really, Diana should have known better), each makes a wish: Diana for Steve Trevor (Chris Pine) to live again, and Barbara Ann wishes to be like Diana, unbeknownst to her that she is a superhero. Both wishes come true, of course.
Adding to the fray is Maxwell Lord (Pedro Pascal), a wannabe oil tycoon that knows about the stone and wants nothing more than to get his hands on it to make his wish come true. It's that wish that almost destroys the world.
Wonder Woman 1984 has a bigger story than 2017's film, and that is part of the problem. By the third act, it begins to break its own established rules, and the climax is a veritable mess that drags the rest of the film down a few pegs. But getting to that point is a fun and rousing experience.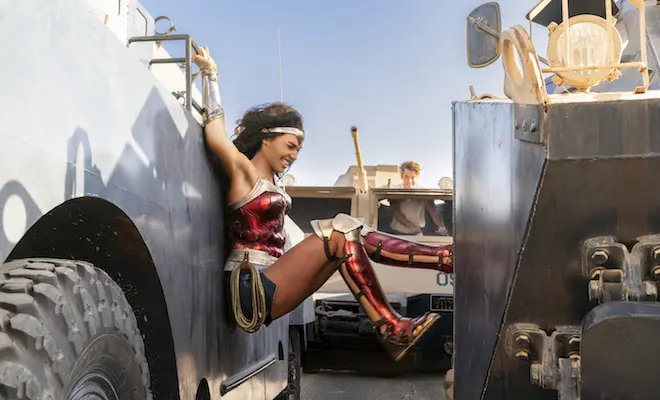 Gal Gadot once again brings Diana Prince to life. It's funny that I now hear her voice in my head when I read Wonder Woman comics. That is a sign that Gadot is doing everything right with this role, and I hope she continues to portray her as both strong and wise, as was as vulnerable where it counts, as this is the only DC character in the "Snyder-verse" that has this many dimensions.
Kristen Wiig absolutely shines as Barbara Ann, and later Cheetah, as she goes from forgettable wallflower to powerful sex symbol. I've long been a fan of Wiig's work in comedy, and she has created some of the most iconic characters on Saturday Night Live, but to see her transform herself both physically and emotionally in WW84 proves that she is an actress that can do more than just make people laugh. I wasn't sure is she could pull it off, and she proved me so very wrong.
Pedro Pascal's Max Lord is slightly different than his comic book version, though it could be argued that by the end of the story, they both needed his pre-New 52/Rebirth comic book send-off. Pascal plays Max as slightly over the top, with the drive for power, power, and more power defining his character. Unfortunately, it's this drive that begins to unravel Wonder Woman 1984 from a rousing comic book film to a silly, effects driven third act that misses the mark.
Chris Pine also has fun with Steve Trevor, a man now out of his time. Watching Steve navigate the mid-80s fashion and style was hilarious and his comedic relief was much needed. Pine also has real chemistry with Gadot and it transcends the screen. These two are star-crossed lovers, and only death can keep them apart.
Director Patty Jenkins understands the character of Diana and her place in the pantheon of comic book legends. This version of Wonder Woman is more than just a pretty face, and Jenkins frames her both on film and in story as someone that all people, regardless of sex, can admire and strive to emulate. Jenkins wrote the script with Geoff Johns and Dave Callaham, based off a story that she and Johns came up with.
In many ways, Wonder Woman 1984 is a classic comic book story, with a MacGuffin so outlandish, it would fit in perfectly in the comic books of the mid-80s. I saw similarities to John Byrne's run on the character from that time period. But what worked in the comics almost 40 years ago doesn't necessarily translate well into film in 2020.
In 2017, I called Wonder Woman DC's first "Marvel movie," and Wonder Woman 1984 keeps that title for the most part. It's a slightly overlong adventure that culminates into a weak third act, but is punctuated by excellent casting and performances along the way. Kristen Wiig steals the film from Gadot and Pine, and Pascal helps with the heist, and these performances alone are what sets Wonder Woman 1984 above most of the other DC Comics films. It remains to be seen if Warner Bros.'s gamble will pay off when the film hits both theaters and HBO Max on Christmas, but I'm just glad that fans can finally see this next adventure of Diana Prince. I know my nieces will be happy.
Wonder Woman 1984 debuts on Christmas Day in select theaters and on HBO Max.
TheHDRoom may be paid a small commission for any services or products ordered through select links on this page.