Sully Review: Not All Heroes Wear Capes
I remember where I was on January 15, 2009, the day of the ill-fated US Airways Flight 1549. We were driving home from a campus visit at Southern Illinois University, and the news of the "Miracle on the Hudson" came across the radio. I remember sitting there thinking there was no way a plane could have landed on the river, and in my mind, I saw images of wreckage and of bodies being pulled from the icy water. As the story went on, we learned that the plane had in fact made a successful water landing, and all 155 people on board had survived. And that was when I first heard the name Sully.
Chelsey "Sully" Sullenberger was the captain on Flight 1549, and after the plane hit a flock of birds during take-off at New York's Laguardia Airport, Sully was able to safely set the plane down in the river, saving all on board. It was a story of heroism; of a man who had relied on decades of training and experience, who saved all on board that plane, after he made the decision to go for a water landing instead of trying to make it back to Laguardia, or any of the other airports in and around the tri-state area. And after all of the investigations and all of the scrutiny, Sully was proven right in his decision, and that he — and his first mate, Jeff Skiles — masterfully completed the unthinkable. And 155 people are alive today because of it.
In the new film Sully, multi-time Academy Award-winner Tom Hanks loses himself in the role of Sully Sullenberger, and director Clint Eastwood tells the story of that frigid, fateful day in New York. The film centers around the events just after the water landing (it was not a crash — the plane is still intact and in a museum in North Carolina), as Sully and Skiles (Aaron Eckhart, who sports the greatest mustache ever put on film here) are dealing with the investigation — and the publicity — of what happened that day. Sully became a national treasure overnight, and the humble Texan never could quite come to grips with the instant celebrity. Doubt and fear and second guessing occupied his thoughts, and as the NTSB conducted interviews and investigations, Sully and Skiles were left defending their actions.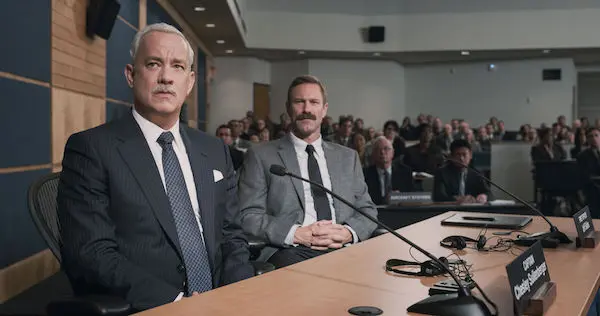 Now, it's safe to go ahead and say that most of the conflict in the film comes from the Hollywood-ization of the story. But that doesn't make it any less poignant. Eastwood's choice to tell the story in non-linear fashion, showing the events of January 15 about a third of the way into the film, and then showing them again with a slight change of perspective in the third act really works to paint a complete picture. While Sully's struggle with his actions are warranted, and superbly conveyed by Tom Hanks, who commands this film like the real Sully took control of Flight 1549, there are a couple of times that Eastwood dips into Sully's past — both in his first time flying, and another time when he brought down a disabled F4 Phantom II at Luke Air Force base. These two interludes, while they make sense on the script page, and even here as I write this, stick out of Sully like a sore thumb. It really breaks up the narrative that screenwriter Todd Komarnicki, who wrote the script based off Sully Sullenberger's memoir, had masterfully woven.
Where Sully really shines is in the way Eastwood highlights New York City's first responders and civil servants, who came together when the plane landed and rushed to save the passengers from the deadly frigid waters. January 15, 2009 was an exceptionally cold day over most of America (it was -5 degrees in Illinois — for the high, and it was 3 degrees in New York, with a wind chill of -15). New York has a secret: most people there are actually very nice, whether they be citizens, bartenders, cops, or even ferry drivers, and most are always willing offer directions, to lend a hand, and sometimes just chat. Sully highlights that admirably. Having just come back from an extended trip to New York last month, that really resonated. In a film based on real events, that was the most real part of the production, so much so that Clint Eastwood dedicates the film to New York's first responders.
Chelsey "Sully" Sullenberger did something on January 15, 2009, that has gone down in history as one of our nation's finest moments, especially only eight years after 9/11. Sully didn't ask to be a hero, but he certainly fits the bill. He doesn't wear a cape, but he has captain's epaulettes on his shoulders and wings pinned to his chest. He doesn't wear a cowl, but he has a nifty captain's hat. The film Sully does a wonderful job of dissecting the man at the emotional level, and though some of the post-flight conflict was overly fictionalized, audiences will get a good feel for who this man was then, and still is today. Hanks and Eckhart provide a rock-solid foundation — and great mustaches — for the story to build on, and the supporting cast delivers as well, creating one of the best biopics of 2016. What happened on the Hudson River in 2009 was nothing short of a miracle, and Sully does an amazing job telling that story.
Sully is rated PG-13 and is in theaters now.
TheHDRoom may be paid a small commission for any services or products ordered through select links on this page.