Sing Street Review: More Heart And Soul Than Half Your iTunes Playlist
If you haven't heard, Prince died last week. It was a death that absolutely rocked the world. To me personally, it hit really hard. When I was a kid, me and my older brother — a huge Prince fan — would sit in our room listening to The Purple One's records. Our walls were covered in Prince posters, and our vinyl collection was littered with albums from not only Prince, both other artists, old and new. We would sit and listen, and discuss the songs, and my brother would educate me on music.
From the chords and solos of a blistering guitar, to the composition of the music, to the stories told by the lyrics — which, in Prince's case, more often than not were dirty, adult-themed nods to sex and partying, I learned so much about music and genres, and, well, life. And I ate it up. Sure there were other bands that we listened to, and it didn't take long for me to go from student to teacher, as the art of creating — whether music or writing stories — was something I developed around that time.
I bring this up, because in the new film, Sing Street, Dublin-born writer/director John Carney has created a perfect call back to not only my youth growing up in the mid-80s, but he also has created a film that resonates with deep heart and soul, and the love between brothers with music as the glue that brings it all together.
Sing Street is the story of a teen boy named Conor (Ferdia Walsh-Peelo), who meets a beautiful girl, Raphina (Lucy Boynton), who happens to be an aspiring model, and then he woos her by offering her a gig in the music video for his band. The problem is, he has no band, and can't even play an instrument. Conor then has to quickly assemble a band and learn music to win the heart of the beautiful girl.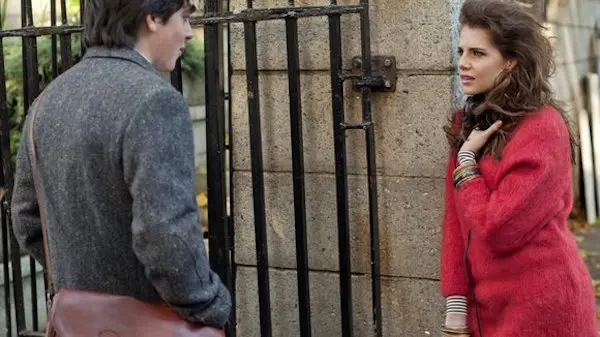 Growing up in Dublin in 1985, Conor's family life is in shambles. His parents (Aidan Gillen and Maria Doyle Kennedy) are always fighting and on the verge of divorce. Conor's one respite to the chaos is in his college-drop-out older brother, Brendan (Jack Reynor), who teaches him all about the world and of music. His dissection of guitarists, like Duran Duran bassist John Taylor, helps Conor understand the basis of music theory, and as Brendan introduces his little brother to other bands, like The Cure and Depeche Mode and Hall & Oates — all huge acts in the mid-80s — Conor absorbs it all, using those myriad styles to create the look and sound for his own band, made up of fellow students from his school, Synge Street CBS (a real Catholic boys school in Dublin that Carney attended).
The band, dubbed Sing Street, begins to make music videos, and Raphina becomes an ally, helping with make-up and wardrobe, and acting as a muse to Conor in his lyrics. The scenes with Conor and his lead guitarist Eamon (Mark McKenna) are some of the best, as Eamon is one of the best-written characters in the film. He's equal parts funny (he's comically obsessed with rabbits) and musically talented, as he can play just about any instrument. Watching these two boys compose songs together is reminiscent of what I always imagined Lennon and McCartney doing in the early 1960s.
The rest of the band is made up of two brothers on bass and drums, Larry and Garry (Conor Hamilton and Karl Rice), and the one black kid in school (Percy Chamburuka), who the band just assumes can play music because of the color of his skin (he can).  The band is managed by another student named Darren (Ben Carolan), who is younger, but has an entrepreneurial spirt, even going so far as to creating hand-written business cards on pieces of cardboard, even though he has no phone. Darren's solution to getting ahold of him is to "just call around."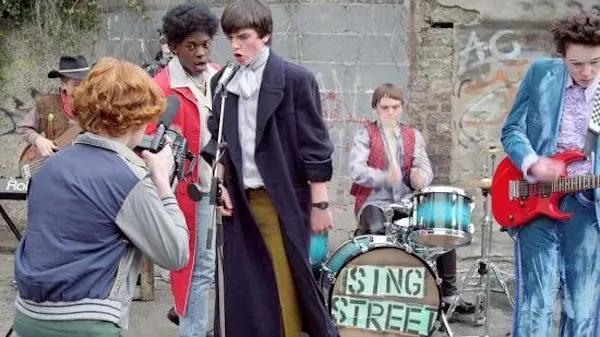 Conor also has to contend with a class bully Barry (Ian Kenny) and an oppressive school master in Brother Baxter (Don Wycherley), and no matter the conflicts thrown his way, the music and the band and his unyielding love for Raphina keep him in stride.
Carney's script feels so real that at times, Sing Street feels almost like a documentary. It hits all the right notes, and certain scenes between Conor and Brendan felt to me like watching my own youth playing out onscreen. The audience can't help but root for Conor, and for the band, as the intentions are there. It's more than just about trying to land a girl; Conor begins to really grow up — and we get to see it all unfold. Carney also helped write the songs for the band, which the actors actually performed (the soundtrack lists the songs as performed by Sing Street). The rest of the soundtrack is made up of other hits of the mid-1980s, including Joe Jackson, The Clash, and Motorhead.
With a heartfelt script, an amazing soundtrack, and near-perfect direction, John Carney has created a magical film that, well, sings to the heart of the viewer. But as the love story resolves itself and the band blossoms into something legitimate, we are drawn back to the relationship between Conor and Brendan, as the two brothers who use music to bond and to shield them from the hard life that surrounds them.
And as the film ends and the last title card appears, dedicating the film "For Brothers Everywhere," I broke down in tears. I have not felt this kind of emotion in a film in a very long time. Maybe it was the recollection to my own relationship to my brother growing up, and maybe is was because my heart has been heavy since news of Prince's passing broke, whichever the cause, Sing Street moved me.
It is a film that will stay with me for a very long time, and I cannot recommend it enough to anyone who has ever fallen in love with girl at first sight, who have ever listened to a record (or CD or MP3 file) and had dreams of being a rock star, or anyone who just loves a wonderful, magical story about brothers and rock and roll. Whichever school of thought you come from, Sing Street is for you, and this is one film you don't want to miss.
Sing Street is rated PG-13 and is playing in select theaters and opens wide on April 29.
TheHDRoom may be paid a small commission for any services or products ordered through select links on this page.