'Only The Brave' Review: Some Gave All
Residents of Arizona remember the day of June 30, 2013 all too well. It was a day that we will never forget. Wildfires plagued the dry southwest that season, and when news broke that 19 firefighters had died fighting a blaze outside of tiny Yarnell, Arizona, the emotions flooded the entire state, if not the entire country, as the gravity of the loss began to unveil itself. The new film Only The Brave is the story of those 19 brave firefighters, the Granite Mountain Hot Shots. It's not a film about the fire, and it doesn't go into great detail to explain what happened. The film focuses more on the men and their families, and it tells their story, as they grew from a small, Type 2 fire unit into a Type 1 "hot shots" squad, and what that meant to them, their families, and their community as a whole.
Only The Brave stars Josh Brolin as Eric Marsh, the unit's supervisor, who had a goal to get his men to that top tier of wild land firefighters. The men, including Jesse Steed (James Badge Dale) and Christopher MacKenzie (Taylor Kitsch), bust their asses fighting fires all over Arizona. They do it because they feel it is their calling. To these men, it's the best job in the world. Enter troubled washout Brendan "doughnut" McDonough (Miles Teller), a kid who learns he is soon to be father, and with no other prospects he begs to join the Prescott firefighters to try and turn his life around. The men are weary of the new recruit, but Marsh sees something in "doughnut," and he gives him every chance to succeed or fail.
The film centers on McDonough's struggle to rebuild himself, to become the man he needs to be for his child, and he becomes the heart of Only the Brave. But while McDonough's story is the heart, Eric Marsh's story is definitely the head. Marsh and his wife, Amanda (Jennifer Connelly), have a checkered past themselves, and have turned their lives around because of their love for each other. It was always Marsh's dream to get the unit to Type 1 status, and with the help of Arizona fire commissioner Duane Steinbrink (Jeff Bridges), Marsh's dream becomes a reality.
Director Joseph Kosinski and screenwriters Ken Nolan and Eric Warren Singer, based off a GQ article by Sean Flynn, tell the story of the Granite Mountain Hot Shots without any politics, and they sidestep the usual disaster film tropes by keeping the narrative focused on the men and their families. In so doing, Only The Brave feels less like exploitation, and more like an exploration of what makes a person decide that they want to risk their lives day in and day out fighting the most destructive element on the planet. By the end of the film, the audience feels they know these men and their motivations, and that makes what happens in the third act that much more tragic and heart wrenching.
Filmed in northern New Mexico, with some scenes actually filmed in Prescott, Arizona, Kosinski frames each shot beautifully. The fire effects (some were practical, others CGI) are stunning to look at, and a bit scary. Images of glowing embers floating through dense, smokey air, with the stark red and oranges of firewalls in the background, create a real sense of danger and destruction, and that makes the scenes of levity back at the station, or in exposition scenes between characters that much more impactful. And there are some humorous scenes in Only The Brave. I laughed out loud a few times, and enjoyed the sense of camaraderie and brotherhood that these men shared. Especially knowing what was to come. It took a deft hand to tell this story without succumbing to the traps of other films like this, and Kosinski and his stellar cast deliver in spades.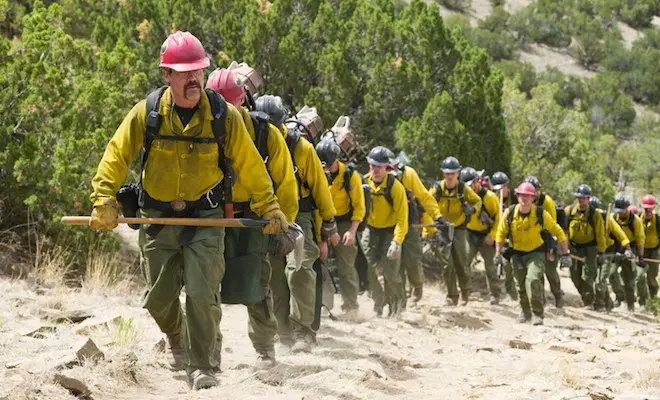 Only The Brave is a true story that transcends not just the state of Arizona, or the southwest, but across America. As of this writing, wildfires are still destroying thousands of acres in northern California, and new fires pop up every day. This is a story for everyone, one filled with joy and laughter, humanity and true heart, juxtaposed against the emotional wallop of the tragic third act. I walked out of the theater teary-eyed and heartbroken, but I also felt that I got to know these men better. I understood their life struggles, and even got a sense of that drive that pushed them into a life of civil service. I feel like I now know the Granite Mountain Hot Shots, and my respect for them — and for all firefighters everywhere — has grown exponentially.
Only The Brave is rated PG-13 and is in theaters now.
TheHDRoom may be paid a small commission for any services or products ordered through select links on this page.