'Jackie' Review: A Haunting, Powerful Tale Of America's Darkest Days
The story of the JFK assassination has been told so many times that there really isn't a leaf unturned when it comes to the events in Dallas in late November, 1963. But just when I think that, a film like Jackie arrives, bringing with it a stellar performances by Academy Award-winner Natalie Portman, and telling the story of Jackie Kennedy in the days leading up to, during, and after her husband — and our president — was shot and killed while sitting right next to her.
Jackie is led by a powerful, haunting performance by Natalie Portman. This could have been a performance to phone in, with some tears and scenery chewing, but Portman delivers so much more. This Jackie Kennedy comes off like stuck up bitch when we first meet her, chain smoking in the Kennedy summer home in Hyannis Port and giving an interview to Theodore White (Billy Crudup) which serves as the vehicle for her storytelling of the events of November 22 in Dallas. But as they converse, Jackie begins to open up more and more, and her story becomes a haunting tale of fallen royalty in a court of starved lions, which takes the audience on a journey they may not have expected.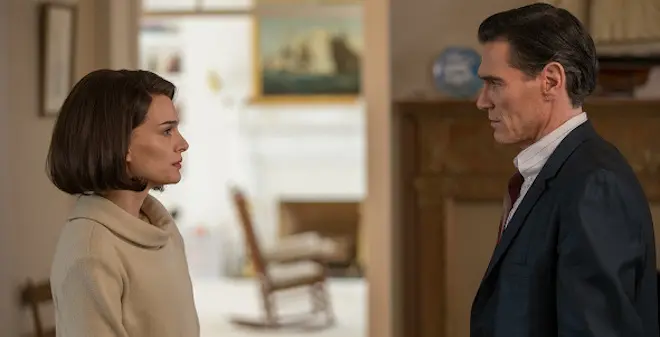 Jackie is protective of her story — and the kids, of course — and refuses to discuss certain things, but in the course of the interview with White, it all comes out, warts and all. Jackie's relationship with Bobby Kennedy (Peter Sarsgaard), who served as her defender when his brother was killed, is laid out. Without Bobby, who knows how history would have turned out. The various figures in Washington during this tragedy are all presented, and the Johnsons (played by John Carroll Lynch and Beth Grant), as the new first family, are portrayed exceptionally well, as the weight of the assassination is weighed against a new regime and all that came along with it, even as Jackie and her kids are slow to vacate their former positions as first family. It's an interesting and heartbreaking dynamic, and it is presented exceptionally well.
Jackie was directed by Pablo Larrain, whose attention to detail really embeds the film in the time period. Larrain, working off a script by Noah Oppenheim, digs under the surface of the motivations of Jackie Kennedy, and as she opens up to Ted White more and more, Larrain turns the screw on the audience, turning this historical art house film into something closer to a Hitchcock-like study on the human condition. This is punctuated by an amazing score by Mica Levi, which serves to unsettle the viewer with bombastic cello-driven crescendos peppered with light string violin pieces, creating a tapestry in and of itself. Levi's score, in any other year, would be collecting gold statues like a nerd hoards Star Wars figures, but this year is lousy with great scores from great films, and Mica Levi might be left in the cold come the end of awards season.
Strong performances by Portman and Sarsgaard, a great script, and Pablo Larrain's attention to detail help elevate Jackie into something more than what it looks like on paper. Mica Levi's score serves as the rocket fuel that propels Jackie into one of the best films of 2016, and one that should studied as a master class in filmmaking and as historical source for history majors everywhere.
Jackie is rated R and is in theaters now.
TheHDRoom may be paid a small commission for any services or products ordered through select links on this page.