Hunt For The Wilderpeople Review: Simply Majestical
In a season — summer — where things get blown up, and spectacle replaces story, and the amount of popcorn consumed is closely tied to the deaths carried out on screen, Hunt for the Wilderpeople, the new movie by Taika Waititi (What We Do In The Shadows, the upcoming Thor: Ragnarok) is the exact opposite. Wilderpeople is a simple film, set in the bush of New Zealand that focuses on a troubled, overweight teen (Julian Dennison) and a troubled, grumpy old illiterate man (Sam Neil), who set off on an unexpected adventure full of wonder and discovery, through the wild bush, all while being pursued by the authorities.
Hunt for the Wilderpeople opens with Ricky Baker (Dennison) in the back of a police car traveling from the city out to the gorgeous New Zealand countryside. Ricky is a foster kid, and his new family, Bella (Rima Te Wiata) and Hector (Neil), hope to share their lives with the boy and help him, well, at least Bella does. As soon as Ricky stops trying to run away and starts accepting his new family, tragedy strikes, and Ricky is soon to be recalled back into the foster system by Paula (Rachel House), whose mantra of "no child left behind" rules her life and clouds her decisions.
Ricky doesn't want to go back into the system, and "Uncle" Hector doesn't want him around, so Ricky sets off into the bush to find his own path. With only a rifle and his dog, Tupac, and limited food, Ricky soon finds himself in trouble, and Hector rescues him, only to fall into trouble himself, which sets off a series of unfortunate events and leads to a massive five month long manhunt for the two social outcasts.
Taika Waititi seems to have the Peter Jackson knack for shooting New Zealand in a way that makes it look like true heaven on earth. Cinematographer Lachlan Milne's sweeping shots and use of light to differentiate color from the much bush to the blue and sometimes gray skies just makes it all look so magical, or as Hector says in the course of the film, "majestical."
The script by Waititi, based off the book by Barry Crump, is equal parts charming, and downright hysterical. I found myself laughing out loud in multiple parts, and not from zany shenanigans on-screen, but from the crisp writing and excellent delivery. This is a funny film. Especially in the third act when the incomparable Rhys Darby appears as Psycho Sam, the living half-man/half-bush (his words). Darby may be one of the funniest actors on the planet, and his delivery of any line can induce laughter. And in the second act, Ricky meets a girl and her wacky (for lack of a better term) father, that really push the needle into the absurd — but in a good way.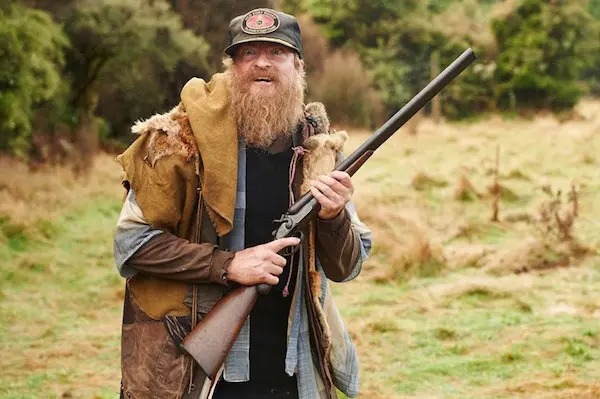 The performances in Hunt for the Wilderpeople are well done, with Dennison ably carrying the film, and with Sam Neil, who many in this generation grew up with from Jurassic Park, reminding viewers that he is an actor to be reckoned with. The pair of actors, like their characters on-screen, are as different as night and day, and yet both seem to make it all believable.
In a summer season of capes, sequels, and loud disasters (both on screen, and at the box office), Hunt for the Wilderpeople is a welcome change from the norm. It is a charming, magical film that reinvigorates the adventurous spirit in all of us, and makes up laugh while doing it. I found myself rooting for Ricky and Hec to make it, even if I couldn't imagine what their end game was. I was so enthralled with the journey, that I didn't care about the destination, and isn't that what life is about after all?
Hunt for the Wilderpeople is PG-13 and is in select theaters now.
TheHDRoom may be paid a small commission for any services or products ordered through select links on this page.